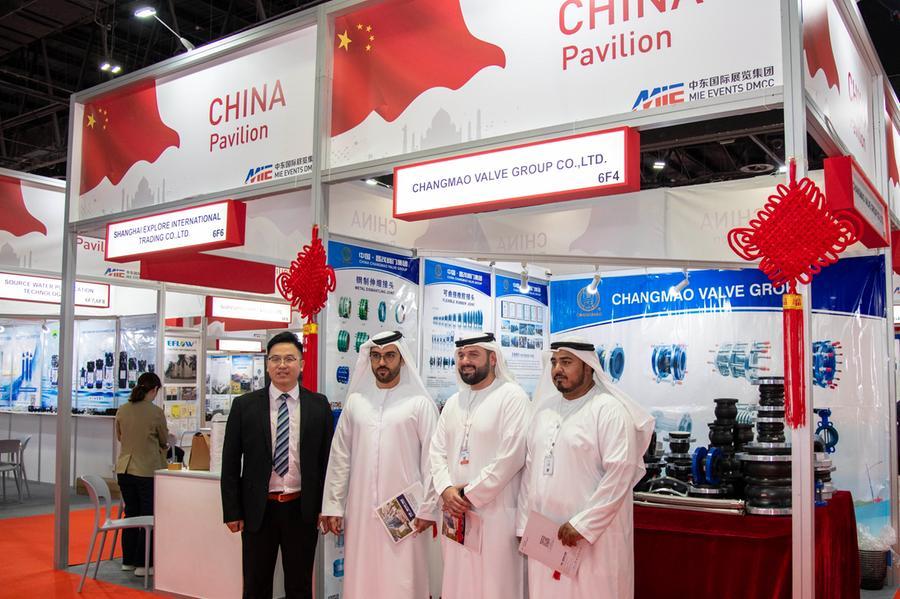 Dubai, UAE: The 25th Water, Energy, Technology and Environment Exhibition (WETEX) and Dubai Solar Show (DSS) has attracted 155 companies from China, specialising in smart cities, water, water treatment, smart logistics, solar panels, energy storage, off-grid solar systems, among others.
Dubai Electricity and Water Authority (DEWA) is organising WETEX and DSS 2023, under the directives of His Highness Sheikh Mohammed bin Rashid Al Maktoum, Vice President and Prime Minister of the UAE and Ruler of Dubai, from 15 to 17 November 2023 at the Dubai World Trade Centre.
HE Saeed Mohammed Al Tayer, MD & CEO of DEWA, Founder and Chairman of WETEX and Dubai Solar Show, pointed out that the China pavilion enriches the exhibition and strengthens its position as a major event on the global sustainability agenda. The exhibition is a leading platform for international entities and companies to present their latest solutions and products, and gain exposure to innovative technologies from around the world.
The UAE and China have a long-standing relationship based on strategic partnership and fruitful cooperation. The trade and investment exchanges between the two countries are witnessing remarkable growth, as the non-oil trade exchange between the two sides amounted to nearly AED 284 billion in 2022, up 27 per cent from 2021, and 80 per cent from that of 2018. Moreover, the UAE is China's top Arab trading partner as it accounts for 30 per cent of China's total non-oil trade with Arab countries. China remains the UAE's largest trading partner globally as of 2022.
"Troowin is one of the few companies in China that has entirely mastered the core technologies of fuel cells, and has multiple technical routes and multi-scenario products and application experience. We bring our most advanced and latest hydrogen fuel cell technology and products to WETEX this year, including fuel cell stacks, a fuel cell power plant, and fuel cell backup power supply. They can be applied in fields such as commercial vehicles, ships, communication base stations, data centres, power stations, and energy storage," said Dr. Li Xiao, CEO of Troowin.
One among the hundreds of Chinese exhibitors, Qingdao LuminSens Marine Technology, will showcase a portable water quality analyser, an online water quality analyser that provides data for remote monitoring, and a wireless water quality analyser for real-time monitoring of dissolved oxygen, water temperature, and other indicators.
Another exhibitor, Joy Technology, will highlight its latest solutions related to smart cities, Internet of Things (IoT) technology, and integrated energy management solutions of its SaaS cloud platform + IoT gateway to increase the efficiency of smart water, electricity, and gas meters.
Meanwhile, Beichen Solar Industry Co., Limited will focus on its products of solar panels and their accessories, and solar pump systems. Shenzhen Geeking Technology will showcase solutions and products in the field of industrial waste treatment, including landfill leachate treatment to prevent air and groundwater pollution, medical waste treatment, sewage sludge treatment, and more. Another Chinese organisation, Qingdao Bluejoy Technology will present energy storage products for industrial services and lithium iron phosphate battery bank devices.
-Ends-
About WETEX & Dubai Solar Show
Under the directives of HH Sheikh Mohammed bin Rashid Al Maktoum, Vice President and Prime Minister of the UAE and Ruler of Dubai, DEWA organises WETEX & Dubai Solar Show annually. This is part of its efforts to support the vision of the UAE's wise leadership and its keenness to contribute to promote sustainable development. Since its inception in 1999, the exhibition has witnessed significant growth and has become one of the most important specialised international exhibitions in the fields of water, energy, sustainability, green technologies, renewable and clean energy, as well as green buildings, electric vehicles, and other key sectors.
DEWA is organising the 25th edition of the exhibition under the theme "At the Forefront of Sustainability" from 15 to 17 November 2023 at the Dubai World Trade Centre. The 2023 edition is especially significant as it coincides with the UAE's preparations to host COP28 by the United Nations Framework Convention on Climate Change (UNFCCC) at Dubai Expo City in 2023.
WETEX & DSS provide a leading platform for international organisations and companies to showcase their latest solutions and products and learn about innovative technologies from all over the world in the sectors of energy, water, sustainability, green technologies, renewable and clean energy, green mobility solutions, sustainable development, and green buildings. The international exhibition, which is the largest of its kind in the region, enhances Dubai and the UAE's support in promoting global efforts to achieve sustainable development, as well as consolidates Dubai's position as a global hub for the green economy.
For more information, please contact:
Shaikha Almheiri / Mohammad Almheiri / Ribal Dayekh
Dubai Electricity and Water Authority 
shaikha.almheiri@dewa.gov.ae / Mohammad.almheiri@dewa.gov.ae / Ribal.Dayekh@dewa.gov.ae                                                                
Aishwarya Anand / Anas Khalieliah
Quill Communications
pnair@quillmena.com / akhaleliah@quillmena.com
For more information, please visit DEWA's website www.dewa.gov.ae