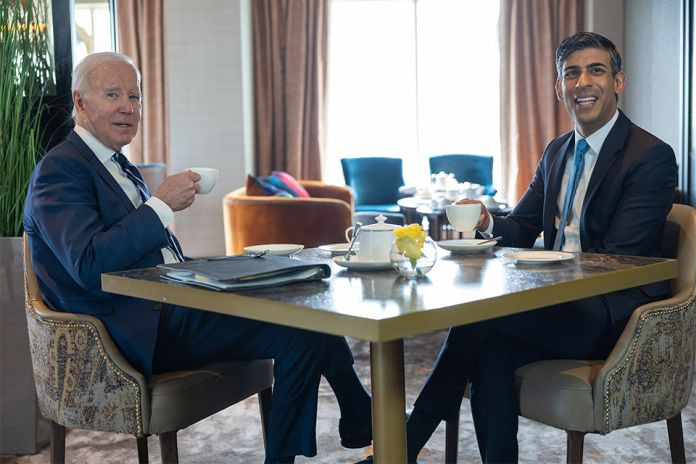 By Caribbean News Global

LONDON, England – UK prime minister Rishi Sunak welcomed US president Biden to the United Kingdom for a meeting in Belfast today.
"The leaders reflected on the legacy of the Belfast (Good Friday) Agreement, which was signed 25 years ago this week. They agreed that this anniversary is a moment to celebrate the progress that Northern Ireland has made over the last quarter of a century and to recommit to building an even brighter future for Northern Ireland," said prime minister office, 10 Downing Street.
The prime minister thanked president Biden for the role the US people and businesses have played in Northern Ireland's prosperity, with billions of pounds of investment creating tens of thousands of jobs. The prime minister and president Biden both expressed their sincere hope that the institutions in Northern Ireland will be restored as soon as possible.
According to 10 Downing Street:
"The prime minister and president Biden discussed the wider relationship between the UK and the US. They agreed that the manipulation of global markets by authoritarian leaders demonstrates, more than ever, the need for like-minded partners to work together to support the economic health and security of our nations.
"The leaders said that the thriving trade relationship between the UK and US demonstrates we are doing just that. They looked forward to discussing the issue of economic security further during the G7 Summit next month and the prime minister's visit to Washington DC in June," adding, "They also agreed on the importance of using global forums like the G7 and G20 to challenge economic coercion and market manipulation, and promote the economic well-being of our countries."