A heartbreaking and upsetting update was announced in the Shanquella Robinson case on Wednesday.
Federal prosecutors told the family of Shanquella Robinson that the evidence they have isn't enough for prosecution to pursue charges in her death, the US Attorneys' Offices for the Middle and Western Districts of North Carolina said.
The FBI conducted "a detailed and thorough investigation of the evidence" and worked with the Robinson family to conduct an autopsy in the United States by the Medical Examiner's Office in Mecklenburg County, according to a press release.
Federal officials met with Robinson's family and representatives on Wednesday "to offer their condolences and present the findings of the federal investigation."
"Based on the results of the autopsy and after a careful deliberation and review of the investigative materials by both U.S. Attorneys' Offices, federal prosecutors informed Ms. Robinson's family today that the available evidence does not support a federal prosecution," the news release said.
Federal officials said they do not normally issue public statements about the status of an investigation, but in this case, they felt it was necessary because of the public concern surrounding the case.
"It is important to reassure the public that experienced federal agents and seasoned prosecutors extensively reviewed the available evidence and have concluded that federal charges cannot be pursued," the statement said.
Robinson, a 25-year-old former student at Winston-Salem State University in North Carolina and resident of Charlotte, died in October 2022 while staying in a luxury rental property in Cabo San Lucas, Mexico with "friends."
She traveled to the vacations spot with 3 women and 3 men, who were identified as Khalil Cooke, Malik St Patrick Dyer, Wenter Essence Donovan, Alysse Michelle Hyatt, Daejhanae Jackson, Nazeer Wiggins.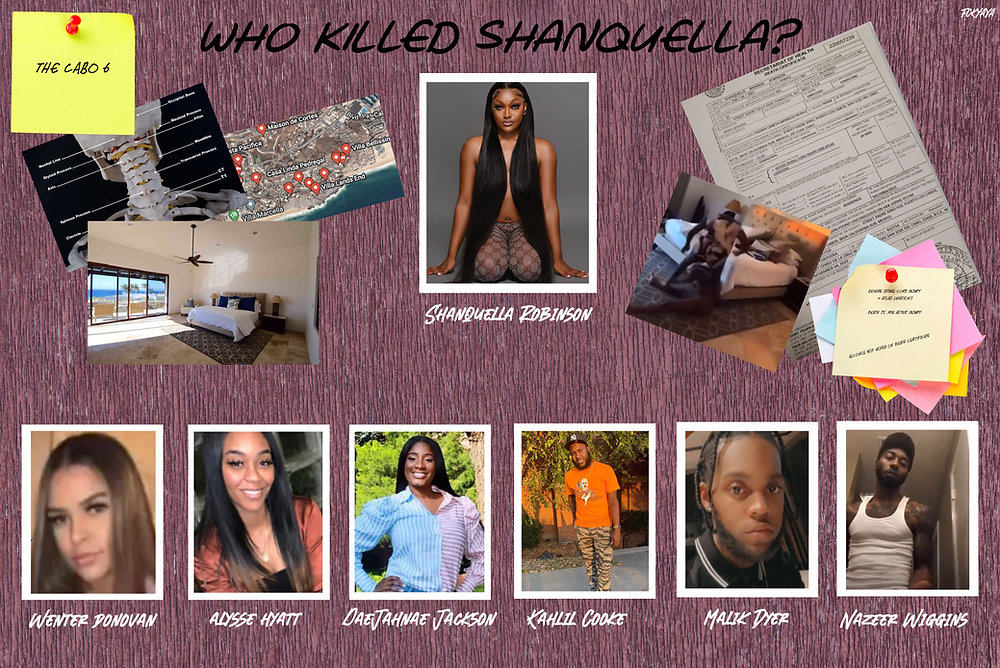 The people who were in the residence with Robinson first stated that she had alcohol poisoning, until a video surfaced online.
The video appeared to show a physical altercation inside a room between Shanquella Robinson and another person. It's not clear when the video was taken or if the video depicted the moment she suffered the fatal injury. It's also unclear what led to the altercation.
A copy of her death certificate, obtained by WBTV, listed the cause of death as "severe spinal cord injury and atlas luxation," which is instability or excessive movement in the uppermost neck vertebrae. The document stated she was found unconscious in the living room of the rental residence on October 29.
The death certificate classified Robinson's death as "accidental or violent," noting that the approximate time between injury and death was 15 minutes.
According to a previous report, Jackson was arrested and questioned but nothing came of it.
Mexican prosecutors had previously filed charges in the case. US authorities have not honored a request to extradite anyone to Mexico related to those charges.
The family's attorney Benjamin Crump said that "Justice is STILL possible," in an Instagram post.
It looks like the family isn't giving up. #JusticeforShanquella