Cardano [ADA] recently experienced a significant decline in its value, with the altcoin's price plummeting by 16% over the past month. However, during this period, there were numerous other activities within the Cardano network that were trending upward, in stark contrast to its price performance.
Particularly noteworthy was the notable surge in Cardano's developmental arena. The network managed to surpass prominent cryptocurrencies such as Hedera [HBAR], Chainlink [LINK], and Cosmos [ATOM] in terms of developer activity in August. This increased level of activity signaled a strong dedication to innovation within the network. It also highlighted the possibility of substantial improvements in its capabilities.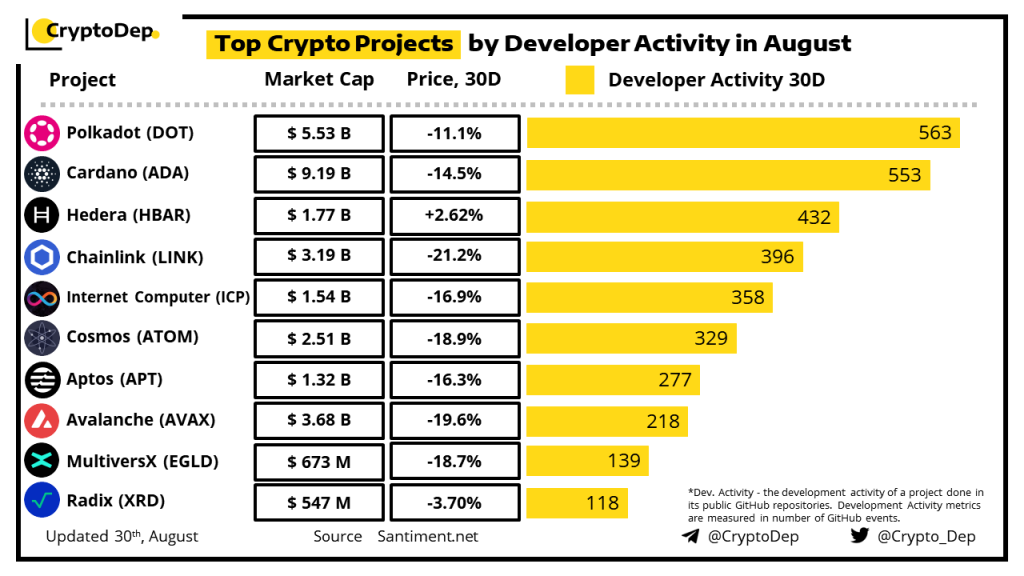 This wasn't all. The network saw increased interest in its DeFi space. Cardano's Total Value Locked [TVL] has continued to exhibit a consistent upward trend over the past few months. It recently reached its highest point, nearly $190 million. However, at press time, the TVL of Cardano was $160.44 million.

Although there is a prevailing positive trajectory, decentralized exchange [DEX] trading volumes on Cardano have experienced a decrease over the past month. Nevertheless, the rising TVL points to sustained interest in Cardano's DeFi sector.
Furthermore, Cardano presently holds the position of being the second-most active network, as reported by Messari. Recent activity on the network has shown a significant surge in daily interactions and transaction volumes, signifying an expanding level of user engagement and heightened interest in the protocol. Currently, the transaction volume stands at $6 billion.
Also Read: Cardano Outshines Polkadot, Kusama Following Increased GitHub Activity
Can these uptrends aid Cardano's price?
At press time, ADA was being traded at $0.2581, reflecting a 1.88% decline within the past 24 hours. The asset's value had declined from its recent peak of $0.2784 to a low of $0.2526. It appears that traders were also demonstrating a bearish sentiment. Coinglass's 24 Long/Short ratio for ADA indicated that there were a total of 47.16% long positions, whereas shorts held the majority with 52.85%.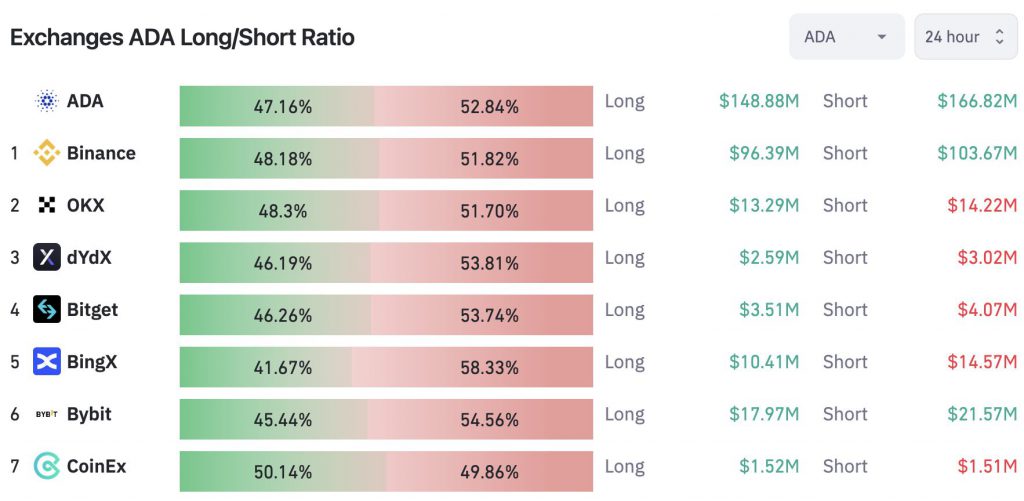 Also Read: Cardano's Hoskinson Makes Jaw-Dropping Discovery That Could Unlock Alien Life Secrets