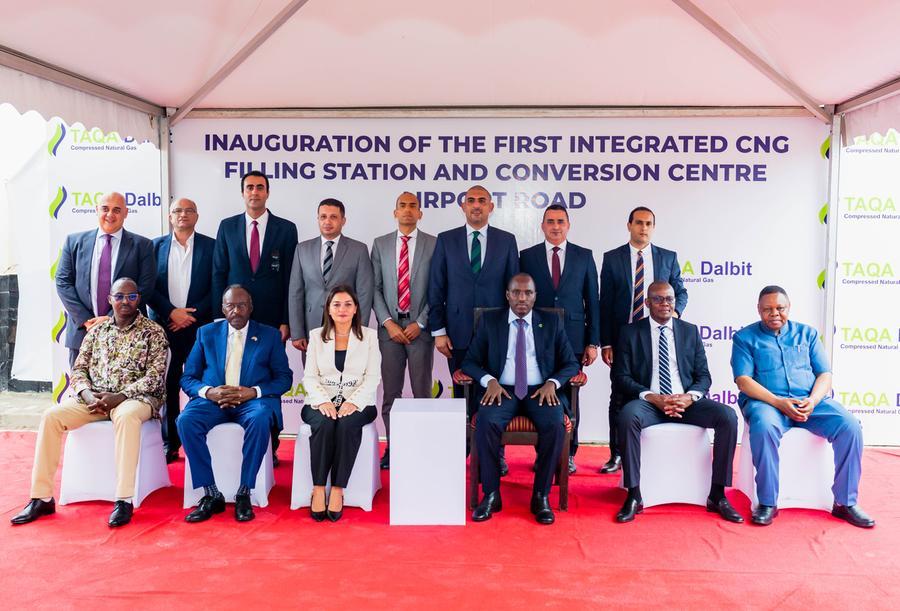 The first integrated CNG station in Tanzania to serve up to 800 vehicles daily.
The first of a series of 12 stations to be developed by TAQA Dalbit in the coming years with a total investment exceeding 10M USD.
TAQA Arabia, the full-service energy and utility provider in Egypt, has announced the commissioning of Tanzania's first integrated Compressed Natural Gas (CNG) Filling Station and Conversion Center branded "Master Gas".
The project was carried out by TAQA Dalbit, a Joint Venture (JV) between TAQA Arabia and JCG Oil & Gas– with the focus of investing, developing, building and operating filling stations and conversion centers to convert and fill cars with compressed natural gas.
During the ceremony, Hon. Dr. Doto Mashaka Biteko, Deputy Prime Minister and Minister of Energy of Tanzania, who presided over the commissioning ceremony, lauded TAQA Arabia and JCG Oil & Gas for their joint investment and support to the government, noting: "     We are on the cusp of a transformative shift in Tanzania's energy landscape. The new CNG Filling Station and Conversion Center is a monumental achievement that demonstrates the Tanzanian government's keenness to provide state-of-the-art solutions and technological prowess as part of our commitment to form a sustainable, greener and economically efficient future."
"TAQA Arabia is committed to expanding its presence in the Tanzanian market across various areas, one of which is providing CNG filling stations and conversion centers to enable and supply cars with compressed natural gas, as demonstrated by the project we are launching today. Through its diverse subsidiaries, TAQA Arabia is looking for providing various services and solutions for delivering natural gas to households, as well as catering to the varied needs of customers in Tanzania with compressed natural gas and liquefied natural gas," said Eng Khaled Abu Bakr, the Chairman of TAQA Arabia.
"We're delighted to announce the commissioning of Tanzania's inaugural integrated CNG Filling Station and Conversion Center in Dar es Salaam, Ms. Pakinam Kafafi, CEO of TAQA Arabia elaborated. "We consider this as a major milestone for TAQA Arabia as we join hands with JCG and the Tanzanian government, marking a significant stride in TAQA Arabia's commitment to serving Tanzania's energy needs with the cutting-edge solutions to expand the use of natural gas, while aligning with the nation's energy vision."
"TAQA Arabia, a leading energy provider and a pioneer in CNG technology, is thrilled to bring this cost-effective and eco-friendly solution to Tanzania, enhancing its economic growth, and reducing emissions. With its know-how, track record of successful energy projects, TAQA Arabia is willing to support Tanzania in benefiting from its gas reserves and great energy potential in the most effective, efficient, and sustainable solutions. TAQA Arabia is looking also in adding greater value to clients either with natural gas distribution, conventional and renewable power generation and distribution and other utility services that the company provides," Kafafi added.
It is noteworthy that a CNG-powered passenger vehicle is estimated to emit about 25% less CO2. It is, on average, 50% cheaper than petrol cars. The CNG station is the first of 12 stations that TAQA Arabia plans to establish in cooperation with its JV in Tanzania in the coming years to support the government's strategic plans and increase the use of compressed natural gas as a cleaner and cheaper alternative to fuel.
About TAQA Arabia:
TAQA Arabia is the leading group in energy distribution and its integrated services in Egypt and the MENA Region, serving more than 1.7 million domestic, industrial, touristic, and commercial clients with their daily needs of natural gas, electricity, renewable energy, petroleum products, and water in 50 Egyptian cities. TAQA Arabia invests, constructs, and operates and maintains energy infrastructure including gas transmission & distribution in 8 governorates, conventional and renewable power generation & distribution, water treatment and desalination services, as well as marketing oil products and lubricants throughout several retail fuel stations across the country branded "TAQA" stations. Through "Master Gas" TAQA Arabia's CNG Subsidiary, the group operates extensive number of CNG stations and conversion centers, as well as providing off-grid customers with Mobile CNG services to deliver gas to areas far outside gas networks across Egypt and the region.