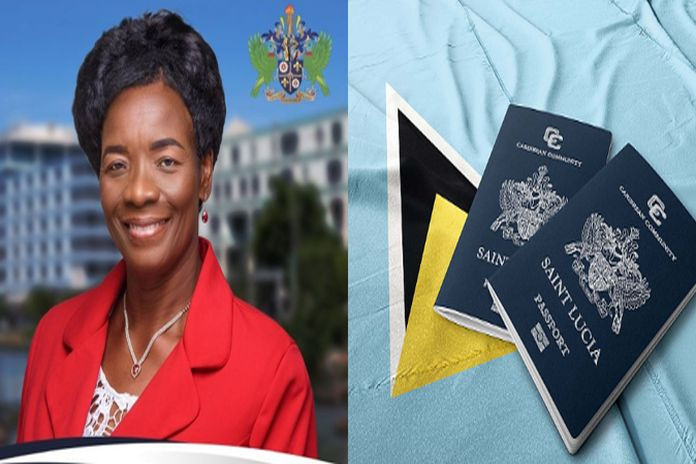 Obtaining a St Lucian passport has become a 'little business'
The immigration department implements dual shift system
The department is operating on a one-day-in, one-day-out schedule
Ongoing challenges with air quality and additional maintenance issues
Retrofitting works for the new location of the passport office, are currently being expedited
"Apologies" in exchange for passports.
By Caribbean News Global contributor
CASTRIES, St Lucia – 'The two Saint Lucias' remains a reality, whereby non-nationals through Citizenship by Investments (CIP) have a smooth and effortless process, that does not require an applicant to physically stand in line, under the elements of a harsh environment, and/or to be in Saint Lucia; meantime nationals have to subject themselves to horrible conditions, albeit numerous unanswered complaints, are hitherto at a loss on the operations of the passport office and the immigration department, submerged in disarray, concealment and delusion.
February 2023, Caribbean News Global (CNG) reported that the home affairs minister Dr Virginia Albert-Poyotte took exception at Saint Lucian's using their talent to offer services to seemingly "disenfranchised nationals", unable to navigate ridiculous and disrespectful services at the immigration department to obtain a Saint Lucian passport.
Earlier this month, the minister attempted to provide an update revealing that she convened a high-level meeting … to expedite the retrofitting works related to the relocation of the passport office to a new site.
"We are in the process of doing the retrofitting work so that they can move there at the earliest possible time. We also looked at the issue of staffing, at the immigration department," the minister stated. Meantime, staff were encouraged to take every safety precaution from an Occupational Safety and Health standpoint, since some officers have medical complaints.
On May 17, 2023, the department of home affairs communicated dual distinctions, that further complicate matters. This follows many complaints on the readiness to issue passports to nationals, let alone improving the heartless public services offered to residents.
Per the home affairs press release:
"Due to ongoing challenges with air quality and additional maintenance issues, a dual shift system has been implemented for staff at the Immigration department in downtown Castries." 
The department of home affairs opined:
"Ensuring the safety and well-being of employees and clients, remains paramount, therefore, to minimize the time spent by individuals within the building, the department will be operating on a one-day-in, one-day-out schedule."
With apparent wit and sophistication, the department of home affairs, continued:
"Express applications will not be processed unless they are accompanied by medical proof."
It is conspicuous, the many inconvenience government operational procedures have caused. Notwithstanding, EC$250 per passport for five years was implemented on July 25, 2022, and the Government Information Service (GIS) on July 8, 2022, announced:
"New Border Management system to facilitate paperless entry into Saint Lucia and the upcoming electronic Saint Lucian passports will mean a reduction in the use of physical travel documents."
The matter of "air quality" largely associated with mold infestation widespread in government offices, schools, etc, bears a deeper concept and practice to quality construction, construction products, building maintenance and peculiar practices adverse to tropical conditions.
Relative to home affairs minister Dr Albert-Poyotte's update on the passport office relocation, commenter Vision, May 12, 2023, At 6:28 am wrote:
"Define incompetence: Rolling out a system in the midst of chronic office-related health and safety issues that also included extreme shortage of staff that all happened in the peak travel season for Saint Lucians. This lady just can't get it right…"
In the norm of business as usual "retrofitting works for the new location of the passport office, are currently being expedited," affirms the department of home affairs, May 17, 2023, with no schedule and forward guidance.
Equally, "adjustment to operational procedures at the immigration department," offer Saint Lucian's "apologies" in exchange for passports.