Shiba Inu has been making headlines since its inception. After addressing initial launch issues post-launch of Shibarium, the network has displayed a notable performance. During the initial week following the relaunch, the protocol interacted with more than 1 million wallets, and it has since increased to 1.25 million at press time.
One of the most impressive aspects of Shiba Inu's resurgence is the surge in transactions. At the time of writing, the network has seen over 3 million transactions, specifically 3,137,647. This remarkable statistic indicates a growing interest in the Shiba Inu ecosystem.
Also read: China: E-CNY App Revolutionizes Tourist Payments with Visa and Mastercard Integration
The connection to Shiba Inu's utility
The potential success of Shibarium may indicate whether the meme coin SHIB will ultimately offer tangible utility. As a growing number of users become involved with the protocol, inquiries arise concerning the practical uses and advantages of SHIB.
Utility is a crucial factor for the success of any cryptocurrency. While meme coins like Shiba Inu initially gained popularity for their entertaining and humorous nature, the long-term viability of such projects hinges on their ability to provide practical uses within the blockchain ecosystem. 
Drop in SHIB burn rate
The latest data from Shibburn has revealed that the burn rate has dropped by -48% in the last 24 hours. According to the data, 32 million SHIB were sent to dead wallets.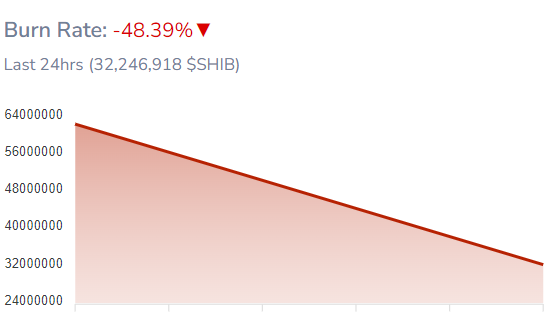 The data reveals that there has been a considerable drop in the burn rate recently, despite the launch of Shibarium.