Yesterday was a day of rejoicing after 18 years of sadness for a family out of Florida. In July of 1998, 16 year old Shanara Mobley gave birth to a beautiful healthy baby girl. That happiness would be short-lived when the child is later abducted by a lady named Gloria Williams.
18 years later, Kamiyah Mobley has finally been reunited with her biological parents after a few tips lead to the arrest of her abductor. This isn't your typical "lock up the kidnapper and everyone lives happily ever after" story. This case is bittersweet because Williams was actually a fantastic Mother and raised her kids to perfection…including the baby she abducted from the hospital. It's obvious that Alexis Manigo, aka Kamiyah Mosley, became attached to the woman who raised her.
How can this be a smooth transition for the child? And what sort of punishment is appropriate for Gloria?
Check out this write up from the people over at Daily Mail.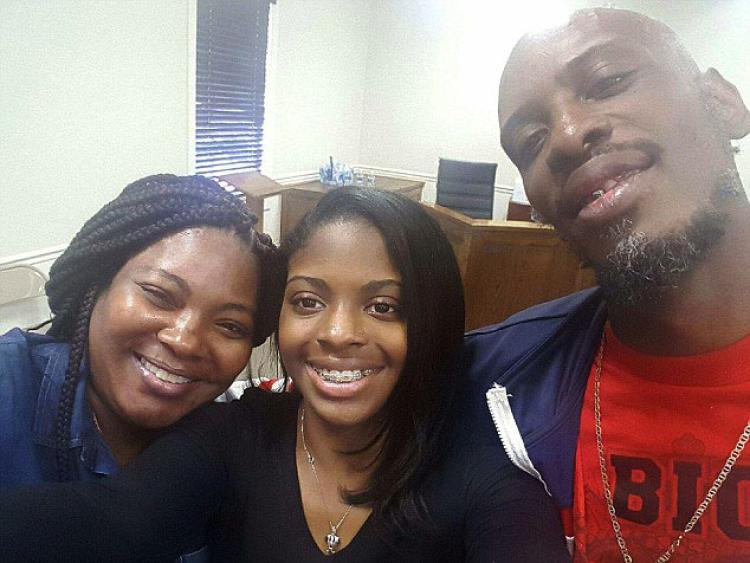 DAILY MAIL
"This is the extraordinary moment an 18-year-old girl who was abducted from a Florida hospital as a baby was finally reunited with her biological parents.
Kamiyah Mobley has spent her entire life living as Alexis Manigo and had no idea her real parents were Shanara Mobley and Craig Aiken.
But days after learning the shocking secret of how she was snatched at birth and raised by another woman, Kamiyah was finally able to meet her birth parents on Saturday in South Carolina.
The trio posed for their first ever heart-melting family photo, breaking into broad smiles with Shanara looking close to tears as her long-lost daughter reached out to capture the shot.
After spending nearly an hour with his daughter, Aiken, 41, said of seeing her for the very first time: 'It was the best day of my life. It was a beautiful, beautiful day. We are so happy. I hope the world is rejoicing with us.'
The emotion-charged meeting took place behind closed doors at a police station in Walterboro, South Carolina, where the woman who raised Kamiyah, 51-year-old Gloria Williams, is currently in custody awaiting extradition to Florida to face kidnapping charges.
Aiken, whose wife Shannon was also present, said they chose not to discuss the alleged kidnapping, instead focusing on getting to know the daughter he and Shanara feared they would never see.
'We laughed, we chatted, we didn't allow any negative thoughts. We didn't talk about the kidnapping,' he told Dailymail.com
'It's going to be hard for her to turn this into a positive. She's got very mixed emotions about the woman who raised her.
'But we are going to be there for her, this is just the start of a wonderful future.'
Authorities revealed Kamiyah had an inclination' some months ago that she may have been kidnapped before Williams was arrested on Friday.
Kamiyah burst into tears as she said goodbye to Williams as her abductor waived extradition to Jacksonville, where she will face kidnapping charges.
'I love you mom,' she told Williams as the two shared a moment, separated by a mesh screen in the Colleton County Jail in Walterboro, South Carolina.
Williams blew Kamiyah a kiss as the teenager cried out 'Momma' and told her abductor she was 'praying' for her.
Just hours after police revealed that Kamiyah Mobley had been found, Manigo took to Facebook to defend her abductor.
'My mother raised me with everything I needed and most of all everything I wanted,' she wrote. 'My mother is no felon.'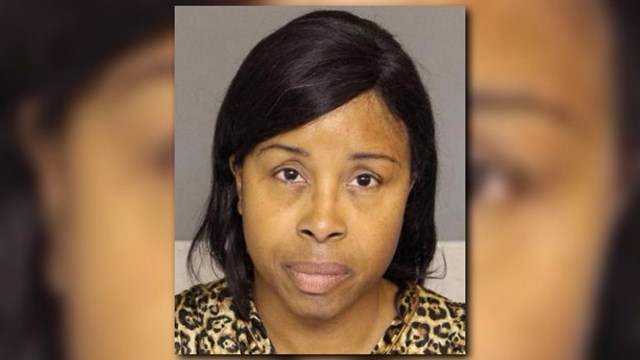 18 Years Earlier
"The mystery of Kamiyah Mobley became a national sensation when she was stolen from her mother Shanara Mobley's arms at the University Medical Center in Jacksonville in July 1998.
It was just after 3pm on July 10, 1998 when a woman wearing a blue floral smock and green scrub pants took eight-hour-old Kamiyah in a white blanket and disappeared.
Authorities said the woman had roamed the halls of the University Medical Center, now UF Health Jacksonville, for 14 hours, according to The Florida Times-Union.
She had spent five hours with Kamiyah and her mother Shanara, who had just turned 16 at the time, before saying the baby had a fever. Nurses thought she was a member of their family.
It was Velma, Kamiyah's grandmother, who became suspicious when she saw the woman leave with a pocketbook slung over her shoulder as she carried Kamiyah away.
'I just feel like if I would have reacted on my feelings… I could have done something,' Velma Aiken said. 'I could have taken that lady out with my bare hands.'
But by the time the hospital staff was notified, it was too late.
Every floor and room of the hospital was searched. Police called bus and train stations and airports to look out for baby Kamiyah. The FBI became involved.
There were no pictures of Kamiyah and only grainy footage from the hospital surveillance camera of the suspect.
Authorities made a composite to try and illustrate what the newborn looked like. Sketches were released of the mysterious woman who had posed as a nurse.
The case took over the county, where women who matched the sketch were stopped in local grocery stores and babies' footprints were compared to those taken from Kamiyah when she was born.
A $250,000 reward was offered and Kamiyah's story was told on CNN and America's Most Wanted.
Craig was in jail at the time of her kidnapping on a drug charge, according to WJXT.
Her disappearance led to even more time behind bars when Aiken, 19 at the time, revealed he was the father – and that Kamiyah had been conceived when Shanara was 15.
Aiken pleaded guilty and spent five months in prison, wondering if he would ever see the baby daughter he never had the chance to meet.
It was earlier revealed Williams had suffered a miscarriage about a week before she drove the three hours from South Carolina to Florida and abducted baby Kamiyah 18 years ago, Walterboro Live reports.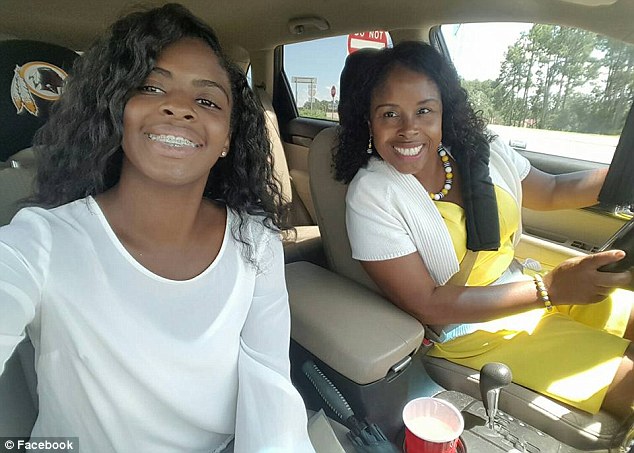 Reaction From Loved Ones
It is believed she then passed off Kamiyah as her own daughter to family
and friends, who said they never suspected a thing.
Jacksonville police said the teenager found out on Friday morning that the woman who raised her in Walterboro her whole life was not her real mother.
Within hours Manigo was able to reconnect over FaceTime with her biological parents, who both cried 'tears of joy' after a detective told them their baby had been found.
Meanwhile Williams, who also has two biological children who grew up with Kamiyah, will be extradited back to Florida as soon as possible and is being held without bond, according to Jacksonville Sheriff Mike Williams.
She could face up to life in prison if convicted.
The news came as a shock to neighbors who said Williams seemed like any regular member of the community.
Williams was employed as a social worker and attended church every Sunday, where she also led the youth program.
She had worked for the Department of Veterans Affairs' hospital in Charleston and also volunteered for Habitat for Humanity, according to CBS News.
'The family is a good family,' said Ruben Boatright, who has known Williams for 15 years and watched Kamiyah grow up.
'You don't want to think bad thoughts of anyone in your family, and that she would do something like that,' he told WJXT.
'But then it's right there staring you in the face. So you don't know what to say or do.'
Boatright said Kamiyah was a well-mannered teen who was 'very well read' and 'disciplined'.
He said his opinion of Williams hasn't changed, despite the news.
'She did that 18 years ago,' he said. 'Eighteen years ago she was a young lady and you don't know what her emotional state was then.'
Boatright said the surprising news has spread like wildfire in the small community.
'At the fish market, the hair dresser, the gas station, they're all talking about it,' he said.
Investigators are currently speaking with Williams' family to learn more about the abduction. Authorities have not yet determined Williams' links to Jacksonville.
A cousin of Gloria Williams said the revelation was 'brand new to all of us.'
Tesha Stephens spoke briefly with reporters on Friday outside the Walterboro home where Kamiyah was raised.
She said she didn't know how the young woman discovered her past and that the news was 'something brand new to all of us'.
'Right now she's holding up… She's processing everything and she's probably going to have to take this day-by-day,' she said. 'This was something brand new to all of us.'
Susan Alls, Williams' aunt, remains unconvinced that Kamiyah is not truly part of their family.
'There has to be something going on with the DNA, whatever they did,' she said.
The sensational news solves a cold case that accumulated more than 2,500 tips and captivated both the city and the country for more than a decade.
A tip received by the National Center for Missing and Exploited Children last year led Jacksonville police to South Carolina.
It was there they found an 18-year-old woman with Kamiyah Mobley's birth date but a different name and quickly discovered that fraudulent documents had been used to establish her identity.
A DNA sample from the teen was taken and submitted to a crime lab, where it was matched with the original newborn DNA taken the day Kamiyah was born. The test confirmed the teen was, in fact, Kamiyah.
A Mother's Heartache Turns To Joy
Shanara, who used to cut a piece of cake and put it in the freezer for each one of Kamiyah's birthdays, received a $1.5million settlement in 2000 after suing the hospital.
As the years passed the mother said she woke up every day knowing her firstborn was still out there – but that there was no way to reach or talk to her.
'I wonder, "What does she like? What kind of food? What kind of colors? How smart is she? Does she have long pretty hair? Does she have my eyelashes?"' Shanara said in 2008.
Now, she may finally have the chance to find out.
'I always hoped and prayed this day would happen. I always felt she was alive. I always felt she would find us,' said Craig.
'Now we have the rest of our lives together.'
Kamiyah's Condition
Jacksonville Sheriff Mike Williams said Kamiyah appears to be in 'good health' and a 'normal 18-year-old woman'.
He said she first 'had an inclination' a couple of months ago that she may have been involved in the national kidnapping case in some way. Authorities didn't say why she suspected this.
Police said Kamiyah plans on staying in South Carolina for the time being.
'She's taking it as well as you can imagine,' Williams said. 'We have victim's advocates up there, she has a lot to process, a lot to think about.'
Gloria Williams was arrested on Friday morning at her home. Kamiyah was not present when she was taken in to custody.
Court records show that Gloria Williams has an extensive criminal record and has been found guilty of writing fraudulent checks and welfare fraud.
She was also charged with a minor crime for disturbing the peace two months after Kamiyah was abducted, Jacksonville.com reports.
The sheriff said Kamiyah had lived at the home with Williams and other members of her kidnapper's family. There are no other suspects at this time.
Records show that Williams and her family were evicted at least six times from six different addresses.
Kamiyah is currently living with Williams and her husband in a Habitat for Humanity home that had been built for them.
Williams' husband was on the road for work at the time of her arrest on Friday."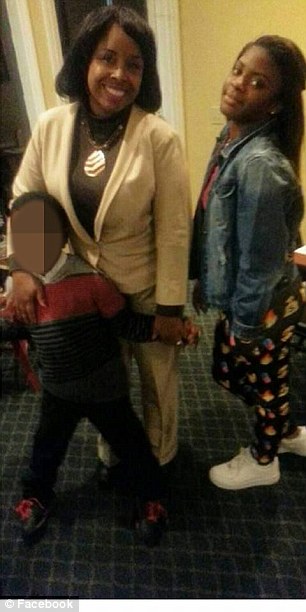 It's just so astonishing that this child's kidnapping was so highly publicized, but yet Gloria Williams wasn't too afraid to post family pictures on Facebook.
We have to admit though. The abductor and the victim could have easily passed for Mother and daughter. We think Kamiyah favors her biological Mom more though.
Congratulations to the Mosley family and all of the people who prayed for this reunion for 18 years strong. We also want to send a special prayer up for Kamiyah and that she is able to witness her abductor go through this criminal system. She says her mother is not a felon, but may still spend time in lock-up for something she did 18 years ago. What do y'all think? In a situation like this, would you want to see Gloria Williams receive the maximum penalty? She DID have a long wrap sheet.