A new report from cryptocurrency market data provider Kaiko reveals that Ripple (XRP) has struggled to maintain its gains following a July court victory declaring it not a security.
According to Kaiko's analysis, Ripple's XRP rallied in July after the favorable ruling, but its price plunged over 25% in August as traders took profits. Despite underperforming last month, XRP saw far higher trading volumes than other major altcoins.
Also read: Crypto Casino Stake․com Reportedly Hacked For $41.3 Million
XRP fails to sustain momentum following positive ruling
Per the report, XRP's $462 million average daily volume in August was four times greater than that of SOL and BNB, the next most traded tokens. Kaiko attributes this disparity to heavy selling pressure on exchanges like Upbit and OKX, alongside buying demand concentrating on U.S. exchange Coinbase.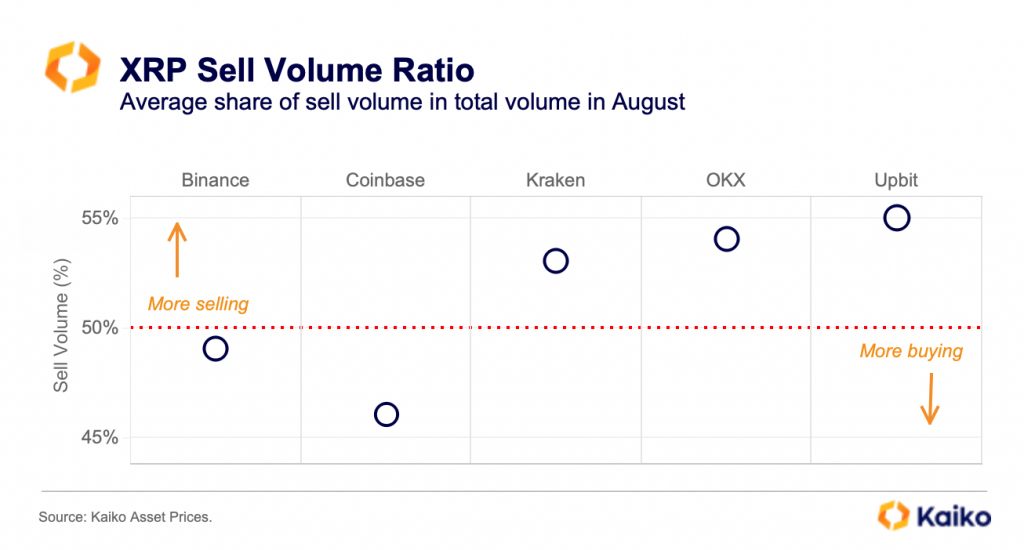 Kaiko also notes that XRP's average trade size topped all 10 top altcoins on Coinbase in August as U.S. investors regained access post-victory. Still, the report finds XRP's overall volumes remain lower in the U.S. compared to offshore markets.
While the ruling was positive for XRP's legal status, Kaiko's data highlights lingering weaknesses like concentrated exchange flows and insufficient technical momentum to sustain a major breakout. For now, XRP remains stuck in the broader bearish tide.