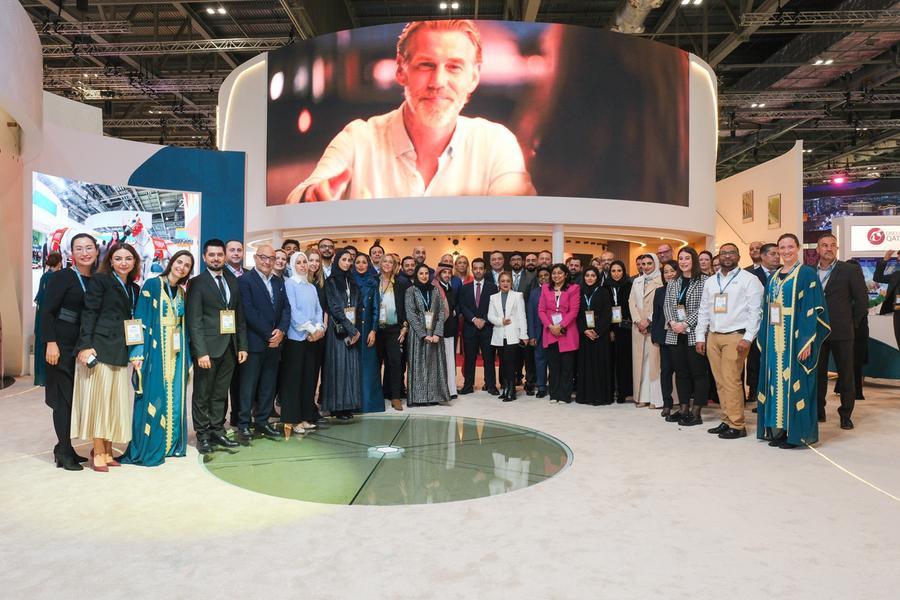 Qatar Tourism represented the State of Qatar at the World Travel Market (WTM) in London, leading a delegation of 42 esteemed hospitality and corporate partners. The event took place from November 6 – 8 at ExCeL London and brought together more than 51,000 senior travel industry professionals, distinguished speakers, and representatives from global tourism boards.
On the sidelines of the event, Qatar Tourism held several constructive meetings.
The delegation featured 39 hospitality partners and three corporate partners including Discover Qatar, Qatar Airways, and Expo 2023 Doha.
Spread over 609 sqm, Qatar Tourism's two-story pavilion showcased the destination's one-of-a-kind attractions, while demonstrating the country's unique blend of modernity and cultural authenticity. It also featured a range of immersive experiences including a Whale Shark activation which allowed visitors to step into an oceanic enclave to witness the beauty of this endangered species up close. In addition, the Dynamic Souq Experience transported visitors to a bustling traditional market with real-time sights and sounds from Souq Waqif. By utilising cutting-edge projection mapping technology, the booth's windows served as portals to the authentic exteriors of the Souq.
Visitors enjoyed a fully immersive room with panoramic views of iconic destinations across Qatar. Within this space, visitors could explore and interact with Qatar's distinctive tourism offerings in real-time.
To shine a spotlight on Qatar's heritage, the pavilion incorporated a dedicated cultural area where visitors received personalised Arabic calligraphy gifts, savoured traditional Arabic coffee, and applied henna art by skilled artists.
For media-related inquiries, please contact Qatar Tourism's Press Office on:
pressoffice@visitqatar.qa  
About Qatar Tourism
Qatar Tourism's mission is to establish Qatar as a place where cultural authenticity meets modernity, and where people of the world come together to experience unique offerings in culture, sports, business and family entertainment, rooted in Service Excellence. Qatar Tourism will regulate and develop the tourism industry, encouraging investment from the private sector. It will set the national strategy for the tourism sector, reviewing it periodically and overseeing its implementation, with the aim of diversifying tourism offerings in the country and increasing visitor spend. Through our network of international offices in priority markets, and cutting-edge digital platforms, Qatar Tourism is expanding Qatar's presence globally and enhancing the tourism sector.
Web: www.visitqatar.qa