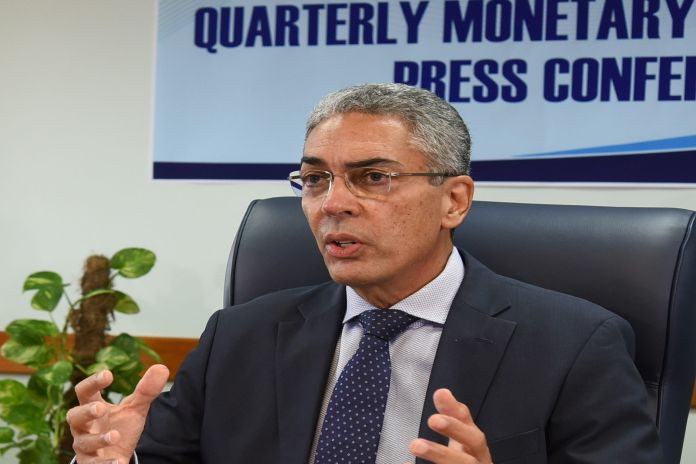 By Douglas McIntosh
KINGSTON, Jamaica, (JIS) – Jamaica's economy is estimated to have grown in the range of four to 5.5 percent for fiscal year 2022/23. This out-turn, according to Bank of Jamaica (BOJ) Governor, Richard Byles, is consistent with the range previously anticipated by the institution.
He was addressing journalists during the BOJ's semi-virtual media briefing on Monday (May 22). Byles, noted that the economy continues to grow strongly, indicated that the estimated out-turn for the January to March 2023 quarter ranged between 3.5 and 4.5 percent.
This, he pointed out, "is a faster growth rate than the 3.8 percent recorded for the [October to] December 2022 quarter".
Governor Byles said there are also signs that the economy continues to expand for the April to June 2023 quarter, adding that gross domestic product (GDP) growth for fiscal year 2023/24 is projected to be in the range of one to three per cent.
"The bank expects that this growth for the year will be largely driven by the resumption of production at the JAMALCO alumina plant, supported by some improvement in agriculture and manufacturing production," Byles advised that the foreign exchange market remains "relatively stable", partly reflecting BOJ actions in response to higher-than-targeted inflation.
He pointed out that, as of May 18, 2023, the Jamaican dollar appreciated against the US dollar by 0.4 percent, compared to a depreciation of 3.3 percent over the corresponding period last year.
"In this context, for the calendar year to date, BOJ sold approximately US$398.3 million via its [BOJ Foreign Exchange Intervention Trading Tool] B-FXITT facility, and a further US$10 million to selected public enterprises, including Petrojam. When these sales are set against BOJ purchases, the result is a net purchase of US$470.3 million," the Governor outlined.
Consequently, Byles said Jamaica's gross international reserves, as at May 18, 2023, remained "substantial" at approximately US$4.7 billion.
"The bank projects that the gross reserves will continue to remain adequate in the medium-term," he noted, and also assured that despite recent turmoil in the banking sector overseas, the domestic financial system remains sound with adequate capital and liquidity.
"Deposit-taking institutions (DTIs) have remained in compliance with prudent liquidity standards and the quality of the DTIs' loan portfolio has remained stable," he added.