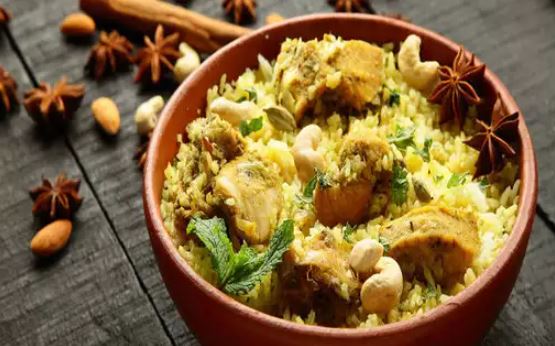 Pretty much like the chicken biryani, this Indian mutton biryani recipe is made using the same method.
Mutton biryani is an aromatic, spicy, and flavourful non-vegetarian dish made with basmati rice along with Indian spices.
The recipe below by chef Amir Nizam explains to you how to make a perfect mutton biryani with easy step-by-step instructions. This mutton biryani is juicy, tasty, and easy to make at home.
In the 20 years that Nizam has been in the culinary industry, he has trained at some of the best hotels in the world, including the Taj Mahal Hotel Mumbai, the Oberoi Hotel Mumbai, and the One and Only Hotel in Cape Town.
Now he can be found sharing his expertise and advice with the students at Capsicum Culinary Studio's Boksburg campus.
Mutton biryani
Ingredients
1 kg mutton shoulder, cut into bite-size pieces
½ cup curd
¼ tsp turmeric
1½ tsp salt
2 tbsp ghee
2 tbsp oil
½ tsp cumin seeds
1 bay leaf
4 cloves
½ cinnamon stick
2 cardamom pods
3 onions, thickly sliced
1 tbsp ginger garlic paste
3 tomatoes, cut into chunks
1 tsp chilli powder
½ tsp garam masala
½ cup milk¼ cup water
Method
Wash and clean the mutton and pat dry with paper towels. Place the mutton in a large bowl.
Combine the curd, turmeric, and salt and pour over the mutton. Mix well and cover and marinate for at least 2 hours. Add ghee and oil to a large pressure cooker and allow it to heat up on a medium flame.
Add cumin seeds, cloves, bay leaf, cardamom, and cinnamon, and fry for 30 seconds or until fragrant. Add sliced onions and fry for 2 minutes or until the onions are slightly browning.
Add ginger garlic paste and tomatoes, and cook for about 2 minutes. Add the marinated mutton and cook on high for 4-5 minutes till the mutton starts browning.
Add chilli powder and garam masala and stir to combine. Add the milk and water, stir and ensure that they are well-mixed.
Tightly seal the lid and pressure cook on medium for 25-30 minutes. The mutton, once cooked, must be fork-tender but should not fall apart.
Serve with cooked basmati rice.