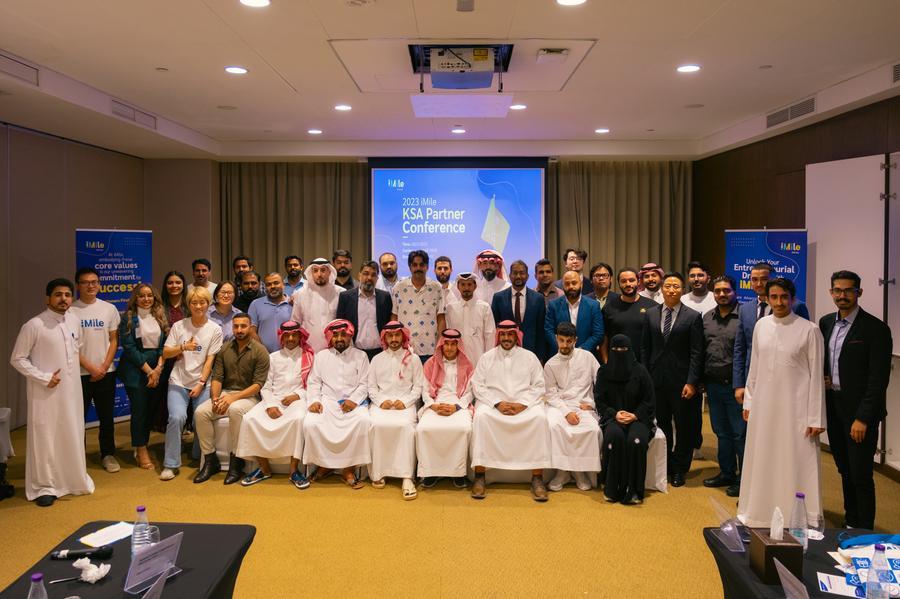 iMile CSP Program fostering the growth of Small and Medium Enterprises (SMEs), nurturing local businesses in KSA
RIYADH, SAUDI ARABIA – iMile, a global leader in logistics and delivery solutions, recently organized the 2023 iMile KSA Partner Conference in Riyadh, a strategic event designed to strengthen partnerships, share insights, and further empower local entrepreneurs in the Saudi Arabian delivery industry. The conference aligns with the iMile Global CSP Program, which plays a crucial role in supporting the Kingdom's Saudization efforts and contributing to the goals of Saudi Vision 2030.
The iMile Global CSP Program has been a significant initiative, offering entrepreneurs in the delivery sector unparalleled growth opportunities, operational support, and access to cutting-edge technology. This program has already made a substantial impact in Saudi Arabia, fostering the growth of Small and Medium Enterprises (SMEs), nurturing local businesses, and contributing to economic growth and job creation.
Key Advantages of the iMile Global CSP Program:
Thriving Market Potential: iMile's global reputation and extensive customer base provide partners with a strong foundation for success in the Middle Eastern market.
Streamlined Operations: CSPs receive comprehensive operational support, including access to advanced technology for efficient logistics and delivery operations.
The recent iMile KSA Partner Conference held in Saudi Arabia served multiple objectives:
Strategic Alignment: The conference ensured that partners are moving in the right direction and growing in tandem with iMile's expansion plans. It provided a platform for partners to align their strategies with iMile's vision and the goals of the CSP Program.
Gathering Feedback and Insights: Partners and iMile shared their experiences, challenges, and feedback, which is invaluable in shaping the future direction of the CSP Program and enhancing its effectiveness.
Building Strong Partnerships: The conference reflected iMile's commitment to building strong, collaborative relationships with its CSP partners. It provided an opportunity to engage and connect with partners on a deeper level.
Knowledge Sharing and Training: The conference equipped partners with valuable insights into industry trends, best practices, and operational strategies.
Strengthening the Network: The event fostered a sense of community and shared goals among partners, ultimately strengthening the national network of delivery and logistics professionals.
Key highlights of the conference included an inspiring keynote presentation by discussing evolving government relations and the dedication of Team KSA, in addition to a comprehensive overview of iMile's KSA and global strategies, as well as the company's vision for the CSP program. Moreover, it also facilitated an insightful discussion on operational planning and long-term strategy for mutual business benefits.
The conference also featured contributions from iMile's experienced team, presenting a comprehensive 3-month thematic analysis of the CSP landscape and enhancements along with sharing of insights and successful case studies of Channel Service Partners. This also served as a platform for discussions around enhancing operational excellence and advanced documentation practices in business operations.
iMile's commitment to supporting local entrepreneurship and contributing to the vision of Saudi Vision 2030 was evident throughout the conference, showcasing the importance of strategic partnerships and knowledge sharing in driving the success of the iMile Global CSP Program.
For more information about iMile and its Global CSP Program, please reach out to us on csp@imile.me.
-Ends-
Media Contact
Shraddha Pareek
Shraddha.pareek@imile.me