Healthy Vegan Green Goddess Dressing
This creamy vegan green goddess dressing has a wonderfully bright and fresh flavour with a hint of zing. It's the perfect dressing to make when you have an abundance of fresh herbs and want a healthy alternative to mayonnaise and/or dairy-based dressings. 
A store-bought green goddess dressing has nothing on the homemade version using fresh herbs, avocado, cashews and not to mention, it most likely wouldn't be vegan anyway!
Why is it called a green goddess dressing? 
Unfortunately, this story has nothing to do with the dressing being healthy or making you feel like a green goddess based on its origins.
If you're interested in a bit of a history lesson, the green goddess dressing was created by Head Chef Philip Roemer in a San Francisco hotel called The Palace Hotel back in the 1920s. 
It was named after a play called The Green Goddess. The lead actor, George Arliss stayed at the hotel where the head chef was inspired to make a dressing to serve on a starter salad.
Traditionally it's made with anchovies, sour cream, mayonnaise, parsley, lemon juice, cider vinegar, chives, tarragon, garlic, salt and pepper. It was heavy on the mayonnaise, making it quite an unhealthy dressing.
A far cry from what I've created! I hope my version makes you feel more like a green goddess as it's much healthier.
What can you put vegan green goddess dressing on? 
The options are endless, but here are a few (too many) ideas!
Spread on a sandwichServe as a dip with veggiesSpread on crackersUsed instead of guacamole on top of nachosTossed through salad* (works great in a potato salad too)Poured over veggie bowlsTossed through noodlesDrizzled over roasted vegetables Smeared over veggie and tofu skewersDolloped over steamed vegetablesSpread on a burgerTossed through pasta (or even zucchini pasta!)Add to your favourite wrap or pocket, or even tacosOver grilled veggies like corn on a cob or red peppersAdd a generous dollop to a big breakfastPoured over a loaded sweet potato 
* This dressing is too thick for delicate salads but wonderful on more robust salads like romaine, lettuce hearts etc. If you want to use it on those more delicate varieties, thin it out with some water. 
What does green goddess dressing taste like?
This dairy-free green goddess dressing tastes like you're eating a herb garden but in a good way! It's creamy from the cashews and avocado, has a hint of umami from the capers and tamari, and a lovely background tang from the ACV and lemon juice. 
I think that this is a beautifully balanced dressing with bright flavours and beautiful green colour. I mean, look at it!?
Tips and tricks to make this healthy green goddess dressing
Use a high-speed blender to get the best consistency for this dressing. Otherwise, you'll have small gritty bits of cashews and herbs. Store it in the fridge for up to 5 days and if it separates a little, give it a good stir. Add a touch of water if it has thickened.Use whatever herbs you have on hand (make sure it's at least two different kinds) that equal 1 ½ cups in this recipe. Others to try are coriander (cilantro), chives, chervil, dill and tarragon.If you're nut-free, you can try using sunflower or hemp seeds in place of cashews. Alternatively, you can try tahini instead. I personally haven't tried any of these options.You can switch out the lemon juice for lime juice if that is all you have on hand. It will get you similar results.I'm based in Australia, so my measuring spoons are unfortunately slightly different to the ones that you get in the US. Please keep that in mind when making my recipes.
This recipe is:
HealthyDairy-freeGluten-freeNut-free (optional, see tips above)Packed full of nutrientsQuick and easy to makeVegan (of course)CreamyDelicious!
So if you're sick of a basic EVOO, vinegar, salt and pepper dressing, you've come to the right place! Keep some in the fridge to top off any meal and take it to the next level.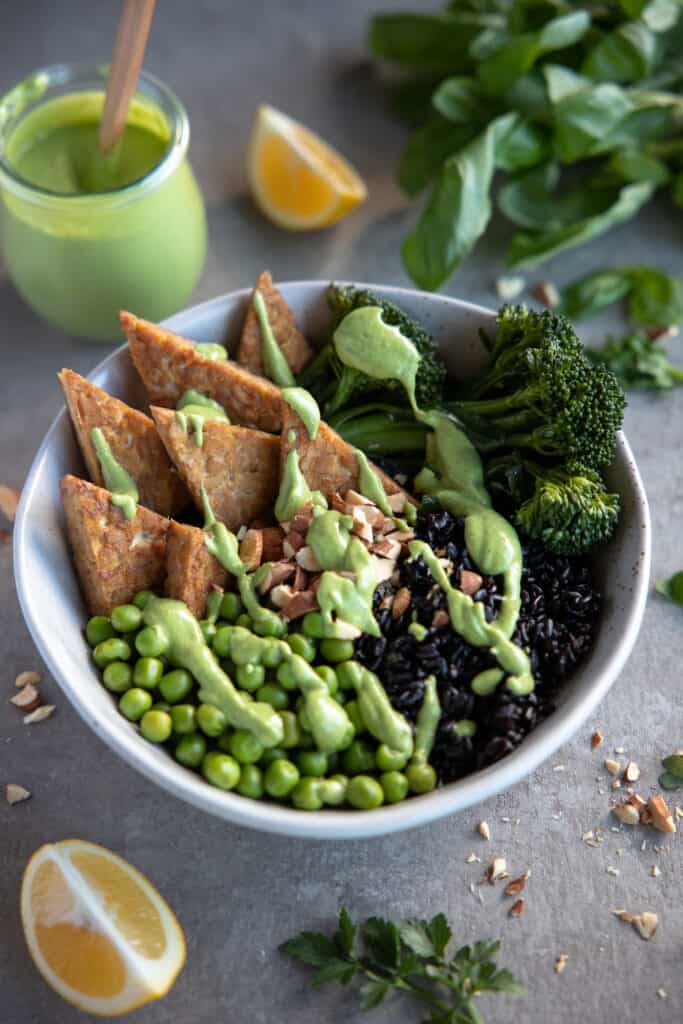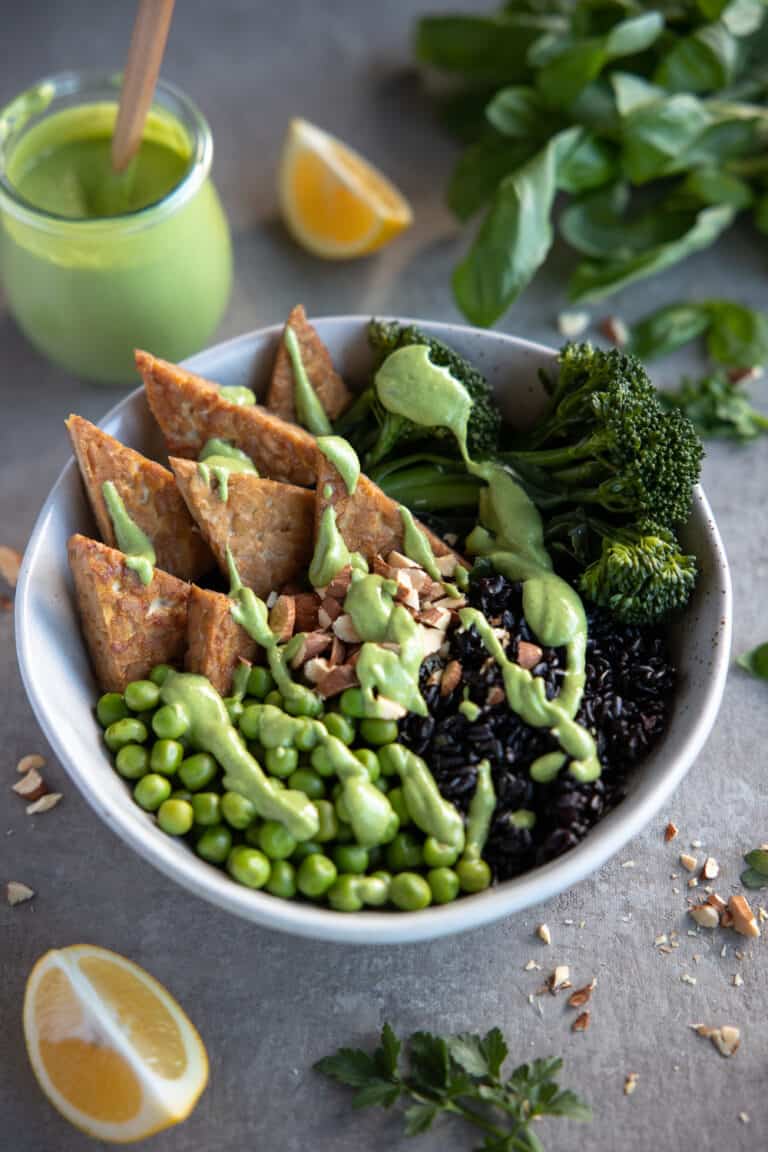 I've been adding more sauces and dressings to the website lately so you have some great basics to help make any meal taste amazing! Here are some other wonderful dressings and sauces you can try:
Easy Garlic Parsley SauceEasy 5-Minute Vegan Peanut SauceSimple Creamy Vegan White SauceHow To Make Tahini DressingHow to Make Vegan Béchamel Sauce (Two Ways)Creamy Pesto Dressing (Gluten-Free)Spicy Toasted Sesame Dressing
If you try this recipe, let me know! Would love for you to leave a comment and rating below. If you want to go that extra mile, tag us on Instagram or share your photo of the recipe on Pinterest. Or Pin It for later!
Ingredients
¼ cup raw cashews*
1 clove of garlic
1 scallion (aka spring onion, green onion), around ½ cup loosely packed*
½ (tightly packed) cup parsley (around 16g/.56oz)
½ (loosely packed) cup basil (around 10g/.35oz)
⅛ th of an avocado (cut into quarters and then halved again)
2 tsp capers, drained
2 tbsp olive oil
2 tbsp lemon juice
1 tbsp apple cider vinegar
½ tsp maple syrup
½ tsp tamari (optional)
½ tsp salt*
¼ cup water*
Instructions
Add all the ingredients to a small blender and blend on high for around 1 minute until smooth and creamy. You can adjust flavours here to your liking.Serve straight away or store in the fridge in an airtight jar for up to 5 days. See serving suggestions above.
Notes
* If you're not using a high-speed blender, make sure that you soak the cashews overnight in cold water or 15-30 minutes in boiling water.
* Both the green and white parts.
* Adjust if not using tamari.
* Adjust depending on how thin you want it.
Nutrition Information:
Yield: 4
Serving Size: 1
Amount Per Serving:
Calories: 200Total Fat: 18gSaturated Fat: 3gTrans Fat: 0gUnsaturated Fat: 14gCholesterol: 0mgSodium: 384mgCarbohydrates: 10gFiber: 5gSugar: 2gProtein: 3g
Nutrition information is a rough estimate calculated automatically. The accuracy of this information is not guaranteed.
Join the MV community
You'll get a neat summary of our content each week, as well as some behind the scenes of what's happening! See you on the inside 😉