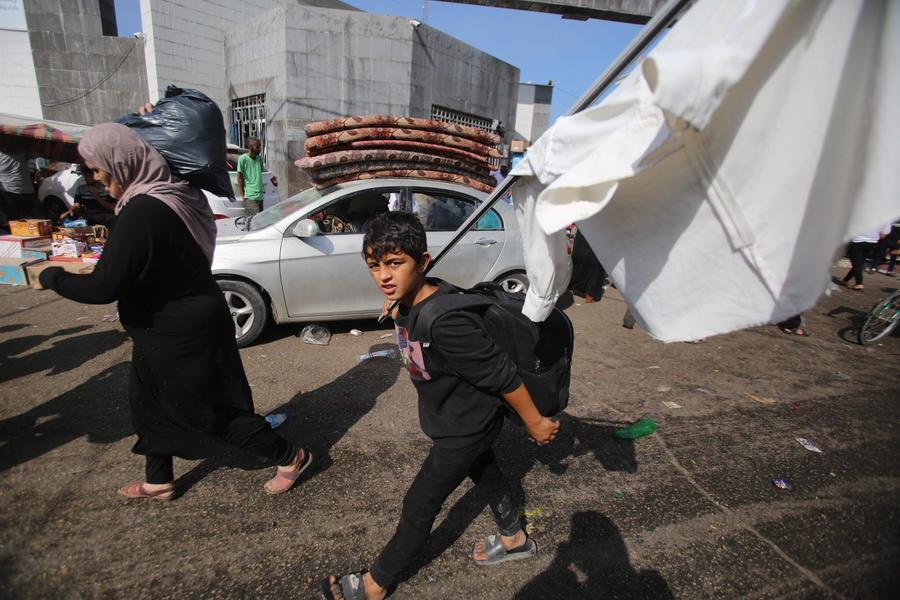 Clutching makeshift white flags, Gazans made their way in between dead bodies and Israeli troops on Tuesday as they followed Israel's orders to flee across the Palestinian territory.
"It was so scary," said Ola al-Ghul, one of the masses of Gazan civilians displaced in the month-old war between Israel and Hamas.
"We held our hands up and we kept walking. There were so many of us, we were holding white flags," she told AFP.
The majority of the Gaza Strip's 2.4 million residents have been displaced by the fighting, with around 1.5 million fleeing within the territory according to the United Nations.
Clutching one of her toddlers, Amira al-Sakani recalled Israel's repeated air drops of flyers, seen by AFP, telling civilians to flee to the south.
"We came by foot from the centre of Gaza to the south," she said. "I was not expecting the distance to be that long."
On the way, Sakani saw "bodies of martyrs, some in pieces".
"We want peace, enough is enough, we are tired, we want a happy future," she said.
More than 10,300 people have been killed across the Gaza Strip, according to the Hamas-run health ministry, mostly civilians, including more than 4,200 children.
The bombardment came in response to the unprecedented October 7 attacks by Hamas, which killed around 1,400 people in Israel, also mostly civilians, according to Israeli officials.
Israel's Prime Minister Benjamin Netanyahu has vowed to destroy Hamas.
Sakani said her children have by now learnt what bombs are: "They tell me: 'That's dangerous mum, I don't want any strikes'."
Those seen fleeing by AFP journalists had few belongings with them, while some carried children or were using wheelchairs.
– 'It was really horrible' –
Haitham Noureddine said he walked four kilometres (2.5 miles) with his mother and other relatives until they reached the southern Bureij refugee camp.
He told AFP the family left their Gaza City home near Al-Shifa hospital, due to the heavy bombardment in the area, and saw decomposing bodies en route.
The Israeli military says its troops have encircled Gaza City but will allow civilians to leave the north.
But casualty figures show no area in the territory is safe, with nearly 3,600 people killed in southern and central Gaza, according to health ministry data.
Holding a walking stick, Hatim Abu Riash recounted his fear of walking past Israeli forces.
"Next to the soldiers, next to the guns, next to the tanks, the aeroplane… it was really horrible," he said, after fleeing the northern Jabalia refugee camp, which has been repeatedly bombed since the start of the assault.
"We are not terrorists — we are civilians — we want to live in peace," he added.
The Gazans' plight does not end once they flee to central or southern areas, where more than 550,000 people are sheltering in 92 establishments run by the United Nations agency for Palestinian refugees (UNRWA).
Facilities are limited and disease is rife.
In one, UNRWA reported that more than 600 people were sharing one toilet.
There are also thousands of cases of acute respiratory illness, skin infections, diarrhoea and chicken pox, the UN says, while accessing basic supplies such as bread has become tough.
Standing on a dual carriageway as fellow Gazans walked past, resident Motaz El-Ajala described the conditions as "inhumane".
"The situation is catastrophic," he told AFP, as an elderly woman was pushed past in a baby's buggy.