The cryptocurrency sector as a whole has experienced impressive expansion over time. Ethereum [ETH], the second-largest cryptocurrency, distinguishes itself for various reasons. Presently, it garners attention for achieving a remarkable feat: surpassing $10 billion in revenue in just seven years, setting a new record in the process. Based on recent data, Ethereum currently shares a position alongside tech giants such as Alphabet and Meta. Alphabet reportedly took around six years to reach this milestone.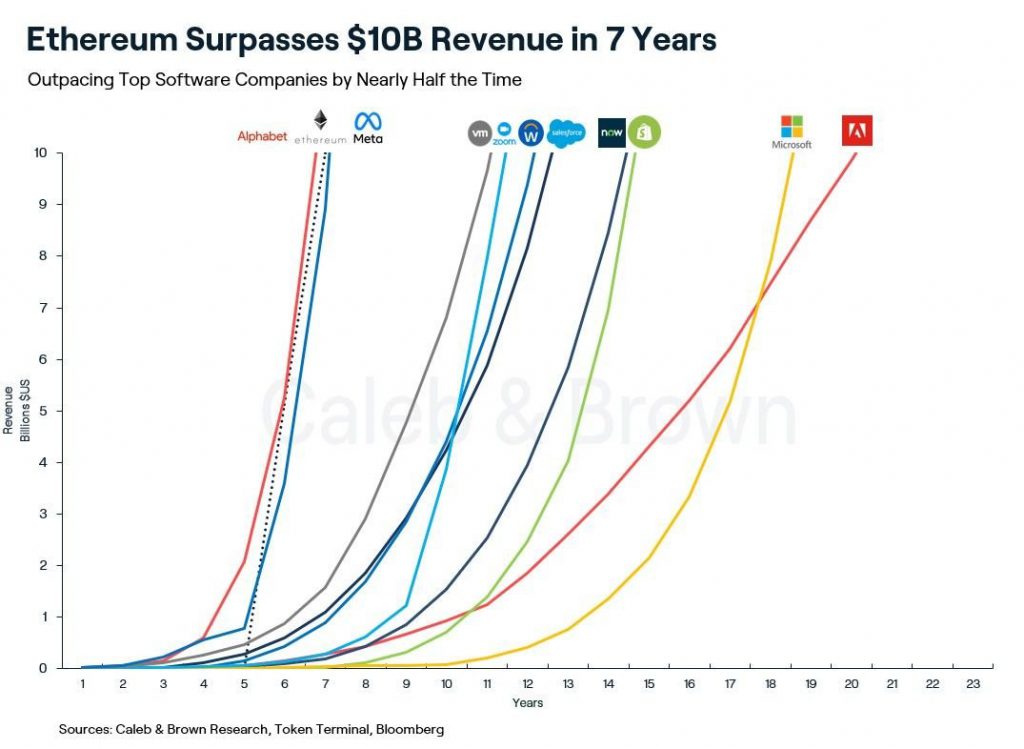 Additionally, while contrasting this record with that of other tech companies like Microsoft, it becomes evident that Ethereum experienced swift adoption. This means that its solutions are being embraced at a faster pace. Microsoft, for instance, took nearly 19 years to reach this milestone. Adobe on the other hand took nearly 20 years to do so.
Also Read: Vitalik Buterin Transfers 400 Ethereum to Coinbase
Breaking down Ethereum's meteoric rise
Ethereum distinguishes itself from numerous networks in the market for a range of reasons, but its primary standout feature lies in its capacity to implement more intricate protocols across various sectors, such as finance, gaming, and the arts. Currently, the market value of ETH is $191.43 billion, and the asset is trading at $1,591.62 with a 0.90% daily surge.
The abilities of ETH mentioned earlier have effectively drawn a broad spectrum of individuals to the platform. Ethereum primarily generates its income through transaction fees, known as "gas," which vary depending on the complexity of the transaction. These transaction fees reflect the level of activity occurring within the network. Typically, heightened network activity tends to result in higher gas fees due to increased demand for block space.
In a recent development, there has been a decline in the transaction fees for ETH. According to a recent report, transaction fees on the Ethereum network have decreased to $1.15 per transaction, marking the lowest point since December of the previous year. This shift is in line with a decrease in on-chain activity.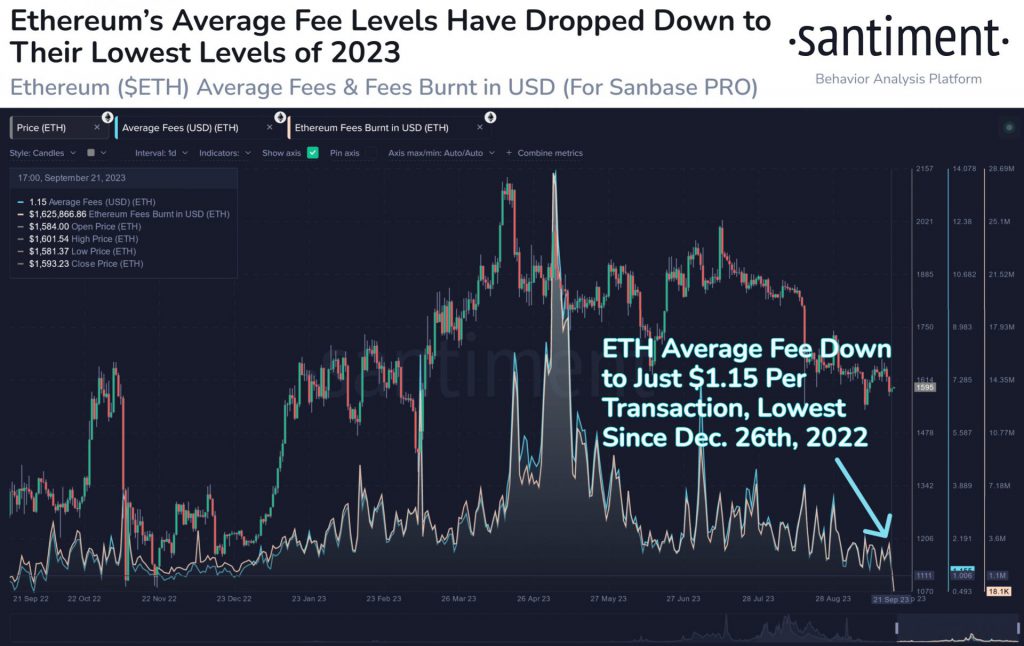 On the flip side, the reduction in network activity is considered a positive development for Ethereum. Santiment added,
"Historically, we see utility begin rising as ETH becomes more affordable to circulate. Increased utility can then lead to recovering market cap levels."
Also Read: Ethereum Faces Inflationary Pressures Amid Plunge in Network Fees