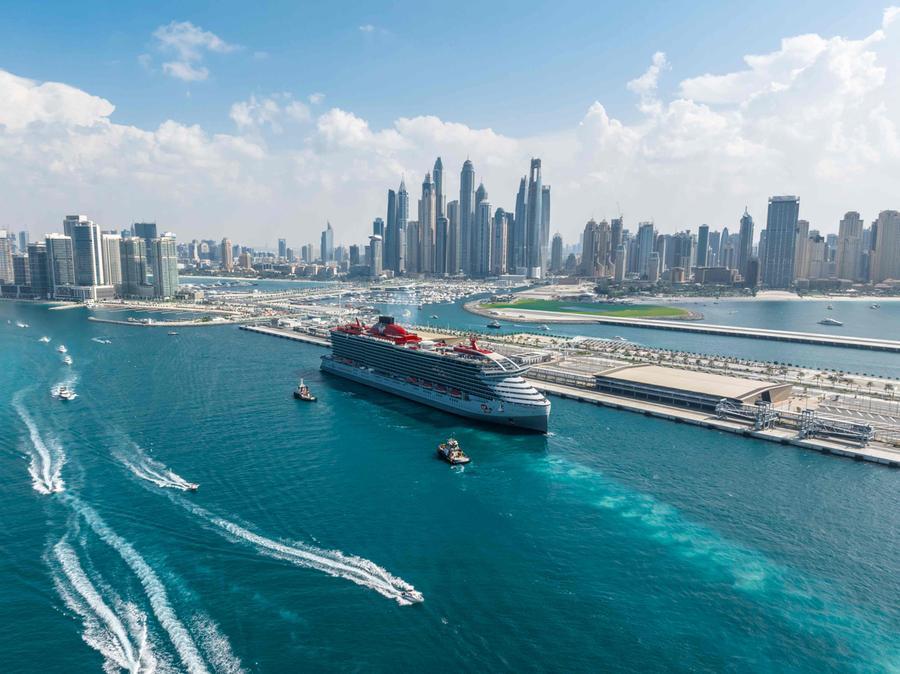 As part of the ongoing 2023/24 cruise season, Dubai Harbour continues to welcome iconic international cruise ships, with 300,000 passengers expected before the end of the season in April.
Dubai, United Arab Emirates: Dubai Harbour, Dubai's extraordinary seafront district, today welcomed the iconic Resilient Lady from Virgin Voyages on its maiden call to the Arabian Gulf. The call is one of a number of international cruise liners set to arrive at Dubai Harbour during this year's cruise season, with 300,000 passengers and 49 ship calls. 
Resilient Lady is the newest "Lady Ship" to join the Virgin Voyages fleet that previously included Scarlet Lady and Valiant Lady. Celebrating Virgin's longstanding British heritage, Resilient Lady launched on 14th May 2023 from her summer homeport in Athens, Greece.
Inspired by superyacht design and bringing modern glamour to the seas, the latest ship from Richard Branson's cruise travel brand arrived in style at Dubai Harbour, rekindling people's connection to the sea and charting a course for newer ways to explore maritime lifestyles. This past summer, the award-winning brand offered two, seven-night itineraries around the Greek Isles and Adriatic Sea departing out of Athens. These included "Adriatic Sea and Greek Gems" and "Greek Island Glow." Resilient Lady, along with its sister ships, was designed by world-renowned architects and designers including Tom Dixon and Concrete Amsterdam, with menus curated by Michelin-starred chefs. On-board, Sailors are spoiled with a daily line-up of immersive entertainment and live music performances, paired with incredible food from 20+ eateries and stunning spaces to recharge and relax. From unlimited group fitness classes to a mermaid-inspired spa and thermal suite, Virgin Voyages emphasizes relaxation while on a mission to curate the best week at sea for its Sailors.
Michelle Bentubo, Chief Operating Officer of Virgin Voyages said, "As Resilient Lady embarks on her journey from Greece to Australia, we wanted to offer our Sailors the opportunity of a lifetime to explore one of the world's most captivating cities via Dubai Harbour. We are grateful for the Arabian hospitality and warm welcome into this extraordinary seafront district. The modern, highly efficient terminal network helped us ensure smooth Sailor turnaround, which is imperative given our shorter stay in the city, and we look forward to calling on Dubai in years to come."
Abdulla Binhabtoor, Chief Portfolio Management Officer of Shamal Holding and the owner and curator of Dubai Harbour added, "We are delighted to have Virgin Voyages' Resilient Lady stopover at our seafront destination. Dubai Harbour curates extraordinary experiences that are inspired by our connection to the sea, showcasing a wide range of living, retail and hospitality offerings for all to explore while visiting the city."
As a manifestation of Dubai's wider planning, coastline development and tourism strategies, as well as its status as the region's leading cruise hub, Dubai Harbour continues to play a major role in rekindling the city's connection to the sea. Designed to process more than 3,250 passengers per hour, the highly efficient and modern terminals at Dubai Harbour have recorded exponential growth over the past two years.
About Dubai Harbour
Dubai Harbour is an extraordinary seafront district, inspired by our connection to the sea, designed for a maritime lifestyle. The district's unique backdrop, iconic vista, and accessible location are combined with a wide range of living, retail, and hospitality choices, as well as comprehensive berthing facilities, making it the region's most unique lifestyle offering.  Dubai Harbour sits just over 30kms from both Dubai International Airport (DXB) and Dubai World Central Airport (DWC) and is within easy reach from the city's world-famous attractions such as Palm Jumeirah, Burj Al Arab, and Expo 2020 Dubai.
Dubai Harbour is home to some of the most iconic destinations in Dubai, including the Dubai Harbour Cruise Terminal, a world-class facility comprising two purpose built terminal buildings, and Dubai Harbour Marinas, the region's largest marina. In addition, Emaar Beachfront, a waterfront community offering residents premier beach access and a luxury seaside lifestyle, and Skydive Dubai, the world-class skydiving company, are also located in the heart of the district. In addition, Dubai Harbour was voted as winner of the World's Best New Cruise Development at the 1st annual World Cruise Awards 2021.
As a one-of-a-kind destination, Dubai Harbour is expected to attract a wide range of locally and internationally renowned events all year round, including the Dubai International Boat Show. The events will play a key role in rekindling the city's connection to the sea, providing additional ways for people to experience their own maritime journey.
As the owning company and curator, Shamal Holding is investing its resources to be the driving force behind making Dubai Harbour an exceptional seafront district.
For more info, please visit: dubaiharbour.com
About Virgin Voyages
Promising to Create an Epic Sea Change for All, Virgin Voyages is the award-winning, exclusively adult cruise line founded by Sir Richard Branson. Delivering unforgettable, relaxing vacations at sea, Virgin Voyages launched at the end of 2021. Inspired by superyacht design, its fleet of Lady Ships exemplify an elevated, boutique hotel at sea with contemporary spaces that strike the perfect balance of nautical chic and glamour.
Currently departing from the sun-soaked cities of Miami, Barcelona and Athens – and soon to include Melbourne – the fleet offers more than 60 unique itineraries, sailing to 100 incredible ports of call.
On-board, 20+ eateries feature culinary experiences from Michelin-star chefs, stylish workout spaces and group fitness classes are offered daily, and a festival-like line-up of intimate and larger-than-life shows are on the agenda. Paired with modern, tech-savvy cabins, designer suites fit for a rockstar and a mermaid-inspired spa and thermal suite, the brand is taking the industry by storm.
In 2023, Virgin Voyages won Travel + Leisure's highly coveted World's Best Award for the best mega-ship ocean cruise line and swept the Cruise Critic Cruisers' Choice Awards – the first time a brand has won in all five categories.
For more info, please visit: virginvoyages.com.
For further information, please contact:
Shamal Holding Communications
Email: comms@shamal.com