Damar Hamlin has been 'fully cleared' to return to his normal football activities after suffering from cardiac arrest in January.
The Buffalo Bills player spoke to the press announcing his return and he also revealed what caused his cardiac arrest. "This event was life-changing, but it's not the end of my story," Hamlin said. "So, I'm here to announce that I plan on making a comeback to the NFL."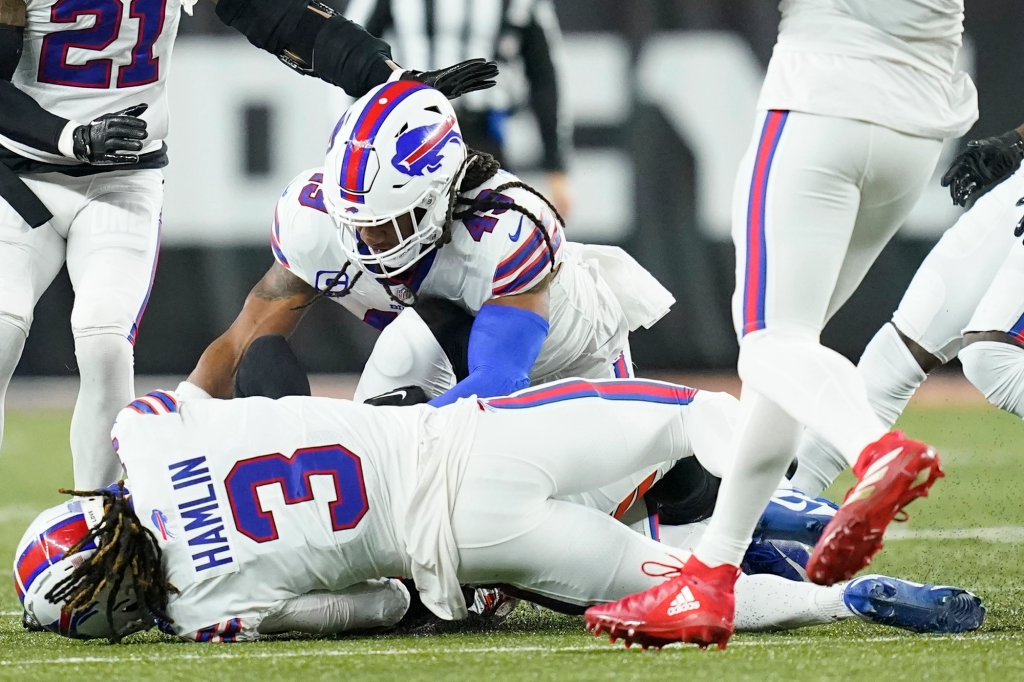 He continued: "The diagnosis of what happened to me was basically commotio cordis. It's a direct blow at a specific point in your heartbeat that causes cardiac arrest," Hamlin added. "And five to seven seconds later, you fall out. … Commotio cordis is the leading cause of death in youth athletes across all sports. So, that's something that I personally will be taking a step in to make a change. Also, with that being said, all of the awareness around CPR and access to AEDs have been lowering that number as well."
"I'm here to announce I plan on making a comeback to the NFL."

"My heart is still in the game, I love the game."

Damar Hamlin says he experienced commotio cordis and explained what he went through on January 2nd. pic.twitter.com/mz1iZJbNRU

— Heather Prusak (@haprusak) April 18, 2023
"We're super excited for Damar," Bills head coach Sean McDermott said Tuesday, per NFL Network. "He's moving forward one step at a time here. He's been cleared from a physical standpoint. We'll provide all the mental help we can from a mind, body, and spirit standpoint. Just happy for him that he's been able to check some of those boxes to this point. And we're moving forward but taking it one day at a time."
As previously reported, Hamlin, 24, collapsed after making what appeared to be a routine tackle against Bengals receiver Tee Higgins during a game broadcast on ESPN's "Monday Night Football."
The shocking moment was followed by almost 10 minutes of CPR and a lot of prayers in the stadium. Hamlin was then taken to the local hospital where he received phenomenal treatment.
Hamlin opened up in an interview describing his journey recovering:
He mentioned: "Things could have went differently and the details of the situation of everything that happened on the field — it could have been — it could have been the last of me." Damar says "he feels grateful to be alive."
We are so happy to hear that Damar has fully recovered! We can't wait to see him on the field again.