On March 31st, Dada gallery announced their upcoming group show 'Reverie', opening in Lagos on 9th April, 2023. The show which features seven artists who have made name in the art scene seeks to explore an idealised version of reality, through the lens of contemporary artists working across different mediums. The artists consider new ways of thinking about their world and their places within it, particularly as it pertains to their identities as shaped by Nigeria. Reverie is presented as a site for dreaming, evoking a sense of movement out of the ordinary, a particularly salient need in light of the after effects of a largely disheartening election season. 
Bunmi Agusto
Born 1999 in Lagos, Nigeria, Bunmi Agusto's practice explores psychology, cultural theory and the evolution of selfhood through the lens of fantasy. Her works combine drawing, painting, and printmaking as they tell the stories of the inhabitants of a surrealist wonderland in her mind called Within. The indigenous inhabitants of this world are hybrids whose human form is combined with elements she finds integral to her sense of self and cultural consciousness. Non-Hybrid humans are also present in Within as family members, friends and passersby in the artist's waking life are subsumed into the world through encounters and begin to occupy the role of cross-reality migrants in her mind.
Yagazie Emezi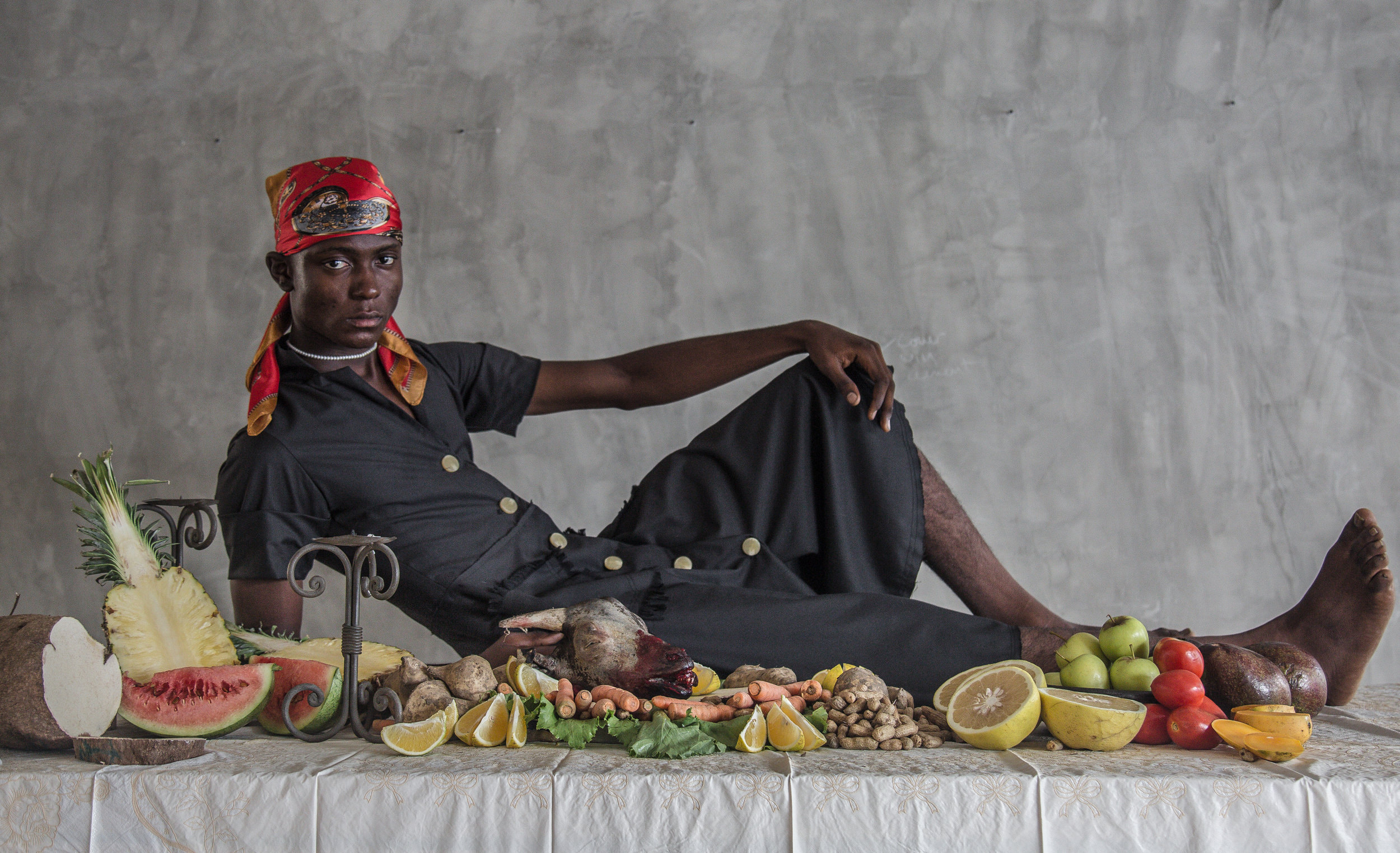 Yagazie Emezi is a Nigerian artist and self-taught photojournalist focused on stories surrounding African women and their health, sexuality, education and human rights. Having worked extensively across Africa, Yagazie also covers stories on identity and culture, social justice, climate change and migration. 
Her art practice uses photography and sculpture to construct visual critiques of Nigeria's socio-political state and the roles media play in it, pulling from history and current events. 
She began her journey in 2015 and has since worked with Al-Jazeera, New York Times, Vogue, Newsweek, Inc. Magazine, TIME, The Guardian, Washington Post, National Geographic, Bloomberg Businessweek, The Weather Channel, New York Times Magazine and several not-for-profit organizations.  After ten months in Monrovia, Liberia (2017) documenting the impact of education for girls in at-risk communities, Yagazie returned to her ongoing project Re-learning Bodies which explores how trauma survivors, outside the narrative of violence and abuse, adapt to their new bodies while marking the absence of an effusive culture around body positivity as a noteworthy cultural phenomenon. Through 2018 – 2019, Yagazie documented patrols at sea through Liberia, Gabon and Namibia with the non-profit Sea Shepherd, recording government efforts to protect marine wildlife from Illegal, Unreported and Unregulated (IUU) activities. 
Ugo Ahiakwo
Ugo Ahiakwo (born 1998) is a sculptor, furniture designer and curator. His works are neither limited by any medium nor inspiration, but they share common qualities: edginess, dynamism, tactility and a high level of refinement. He fuses his combined knowledge of art and design with his curiosities about the world at large and a yearning to create a much better future. Ugo's artistic process involves listening to and negotiating with materials that he finds himself drawn to.
Ugo Ahiakwo studied fashion design in the Academy of Art University, San Francisco and School of the Arts Institute, Chicago between 2015 and 2018. He has occupied various roles in fashion, art and hospitality. Most notably, he has worked as a design assistant at Iamisigo, Digital marketing assistant at Alara Lagos, Social media manager at Ebony Life Place, Design intern at ITAN Test Kitchen and Resident Curator at Soto Gallery. He was one of the recipients of the ART X Reviews in 2020, his works were featured in Polartics (now The Dada Gallery)'s "Permission to Exhale" group exhibition in 2020, "Are You Comfortable Now?" duo exhibition with Chigozie Obi in 2021 and "Design Intersect" at Soto Gallery in 2021. His works were also featured in the Vicnate "N°2" fashion film for Lagos Fashion Week 2021, he co-designed the Tj Who fashion presentation for Lagos Fashion Week 2021, he executed a commissioned sculpture for the Balmain x Chivas Regal launch party in Lagos, 2021, co-curated the Lagos Fashion Week x Style House Files "Woven Threads" sustainability
themed exhibition in 2022 and his work was also featured in the Vicnate "N°4" fashion campaign in 2023.
Sola Olulode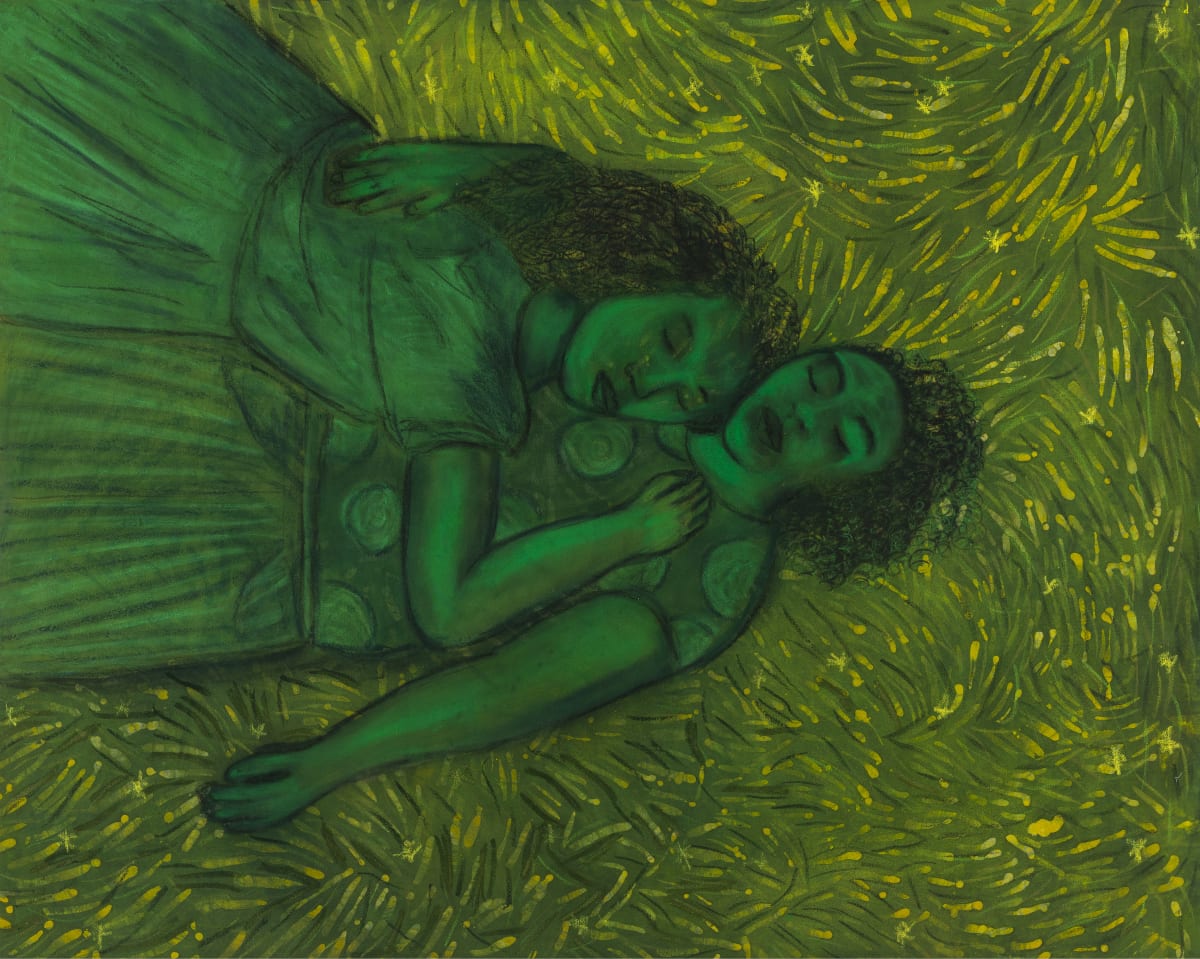 Born 1996, Sola Olulode's paintings are nuanced and tender visions of intimacy and community; her wistful images celebrations of Black identity, womxnhood and non-binary people. Distinguished by their use of gestural brushwork, indigo dye, wax, oil bar, impasto and monochromatic schemes (typically in blue, green or yellow) they speak strongly of her Nigerian heritage. Allowing the body to take centre stage, she creates utopian scenes which give prominence to movement, gesture, and romanticised acts.  Reflecting her own community and experiences, her works expose a unique tenderness and a fluid ability of bringing to life representation and visibility of Black Queer lived experiences.
Kwadwo Asiedu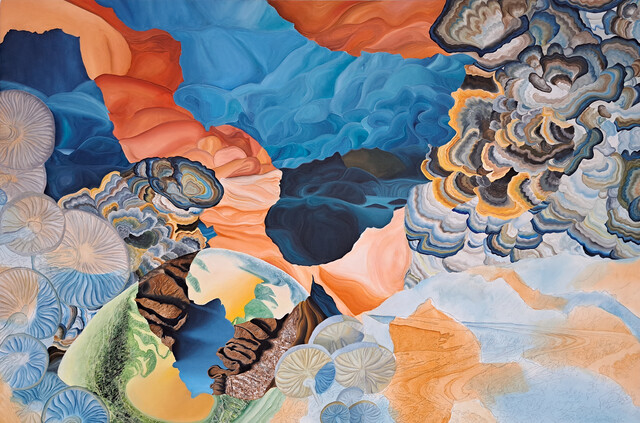 Kwadwo A. Asiedu (b. 1987) is a Ghanaian self-taught artist and photographer who was born in Mexico and is based in Ibadan, Nigeria. He holds a master's degree in environmental management from the University of Hertfordshire, England. His practice revolves around the translation of nature's charm. Growing up in an agricultural institute in Ibadan. Nigeria, an institute that holds the largest protected rainforest, within the largest city in West Africa – rich in biodiversity and intrigue. Through his paintings, he aims to recall / reopen discourse about the living environment's sustainability, whilst reassessing our position within it. He approaches art as a form of dialog, with an emphasis on what it means to feel a sense of stillness and equilibrium with the world. By highlighting the macro elements of flora and fauna through alterations in scale, Asiedu reaffirms a narrative where we, as a species, need to recultivate a more symbiotic relationship with the living environment. Through his abstracted landscapes. He reiterates a systematic waning of empathy with nature, highlighting the precipice of the earth's unsustainability. His work aims to prioritize the need for earnest methodologies to reconnect with nature as opposed to the exploitation of our relationship with the earth.
Ayanfe Olarinde
Ayanfe Olarinde is a visual artist from Lagos, Nigeria, born in 1996. Her unique artistic style draws heavily from scribbling techniques and photography, resulting in multi-layered and intricately detailed images.
Olarinde's captivating work explores themes such as self-image, identity formation, mental health, and social realities. Through her art, she delves into the inefficiencies of government, interrogates popular culture, and explores collective history.
As Olarinde draws from a range of mediums, including ink, acrylics, wire, and found objects, she creates deeply evocative drawings, paintings, collages, and sculptures. Her art reflects her life experiences and serves as a tool to spark stimulating discussions about self-image and mental health. Olarinde's engagement with the scribbling technique serves to investigate emotion while exploring fluidity in form, drawing from faults in her personal, ongoing journey for acceptance. Her oeuvre showcases a strong influence of Yoruba culture, one of the most prominent and widely recognised cultures in Nigeria and West Africa.
Olarinde's aim is to promote the rich and vibrant Yoruba culture and African folktales, which have strong morals and values that have helped her understand the world. Through her paintings, she wants to preserve the gradually affected cultural heritage that has been impacted by modernisation and globalisation. 
In her recent works, Olarinde transforms traditional Yoruba folktales into contemporary mixed media art, using her signature bold and expressive colours and textures. Her art offers a unique perspective of the world and an insight into the rich fabric of Yoruba culture.
Chigozie Obi
Chigozie Obi (b. 1997) is a multi-dimensional visual artist. Her work explores experimentation with multiple materials to tell stories formed from personal/societal experiences.
Obi's work authenticates her keen interest for the human aspect of life, the body, beauty standards and the strive for self-acceptance. She aims to create sustained conversations about people and society – the cultural narratives adopted and how it affects people in it, especially women.  
Obi obtained a bachelors degree of Visual Arts from the Creative Arts department, University of Lagos in 2017. Her work has been featured in several group exhibitions and sales, which include, 'Unity', Vollery Gallery, Dubai (2022), 'Intersections', Gallery Affinity, Lagos, Nigeria (2021), 'Are You Comfortable Now?', A Whitespace Creative Agency, Lagos, Nigeria (2021), 'Real Life Is Fragile', Thinkspace Projects, Los Angeles, US (2020), MoCada Museum's silent auction (2019). She was selected as Arthouse Contemporary's Artist of the month – July 2018, one of the recipients of the inaugural Tilga Fund for Arts Grant (2020) and the Art.ng Grant for Visual Artists (2020). She is the winner of the Access Bank 'Art X Prize (2021), one of the winners of The Future Awards Prize For Art (2021), one of the shortlisted artists for The Alpine Fellowship Art Prize (2020) and recently concluded her residency at Gasworks, London (April – June 2022).
About Dada Gallery
Dada gallery champions artists whose practice reflects the times and develops new ways in which art can speak truth to power. the gallery has earned a reputation for introducing the most exciting emerging artists from africa and its diaspora to international audiences. Dada gallery is committed to promoting artists exploring wide ranging themes such as youth, identity, sexuality, cultural and socio-economic issues. the gallery was founded in 2015 as an online journal that merged politics and art. it has since evolved and shifted its focus to exploring innovative and immersive ways to invite audiences to engage with its roster of young vibrant artists. Dada gallery presents exhibitions in its physical spaces in london and lagos while continuing to maintain a strong digital presence with its online exhibitions.