A recent post by Kaiko on X [formerly Twitter] pointed out that the Turkey's currency, the Lira, has now become the largest fiat trading pair on Binance. It constituted 3/4th of the total volume on the exchange in early September. By doing so, it overshadowed the volume of other fiat trading pairs against the euro [EUR], Brazilian real [BRL], and several other currencies.
When compared to January 2021, the dynamics have completely flipped. The Turkish lira is the only fiat trading pair that has registered a swift increase in share. EUR and BLR's share has dwindled over the years.
On other local exchanges in Turkey, the volume trend has seen significant fluctuations over the past week. On Paribu and Icrypex, the uptrend had subsided, while on the other three notable improvements have been registered. These exchanges have been settling $40-$65 million lately on a daily basis.

Also Read: Friend.tech Generates More Fees Than Bitcoin, Solana
Why is Turkey's Dependence on Crypto Increasing?
Turkey is one of the worst affected economies due to inflation. The inflation rate rose to almost 60% recently. The stronger than expected rise in the inflation rate pointed out, how Turkey is still in the midst of a deep cost of living crisis.
The new economic team that President Recep Tayyip Erdoğan appointed in June has been unwinding unconventional policies that were in place for years. Nevertheless, Turkey has not been able to see much in terms of immediate relief. Amid the rising inflation, Turkish citizens have been increasingly leaning towards crypto. However, for an exchange, 75% of volume coming from just one economy is not typically healthy. It pointed towards the uneven macro adoption, and could prove to be hazardous if regulations in the region tweak.
Nevertheless, investors have been finding solace in crypto. A recent KuCoin survey pointed out that more than half of the Turkish population has been investing in this asset class. The percentage of crypto investors amongst the Turkish population aged 18 to 60 has increased by 12% in the last 18 months. Retrospectively, crypto investing Turkish adults have significantly increased in the last 18 months, from 40% to 52%. Chalking out the implication, the report noted,
"This indicates an increasing interest and acceptance of crypto as a hedge against inflation, especially with the Turkish lira losing over 50% of its value against the US dollar."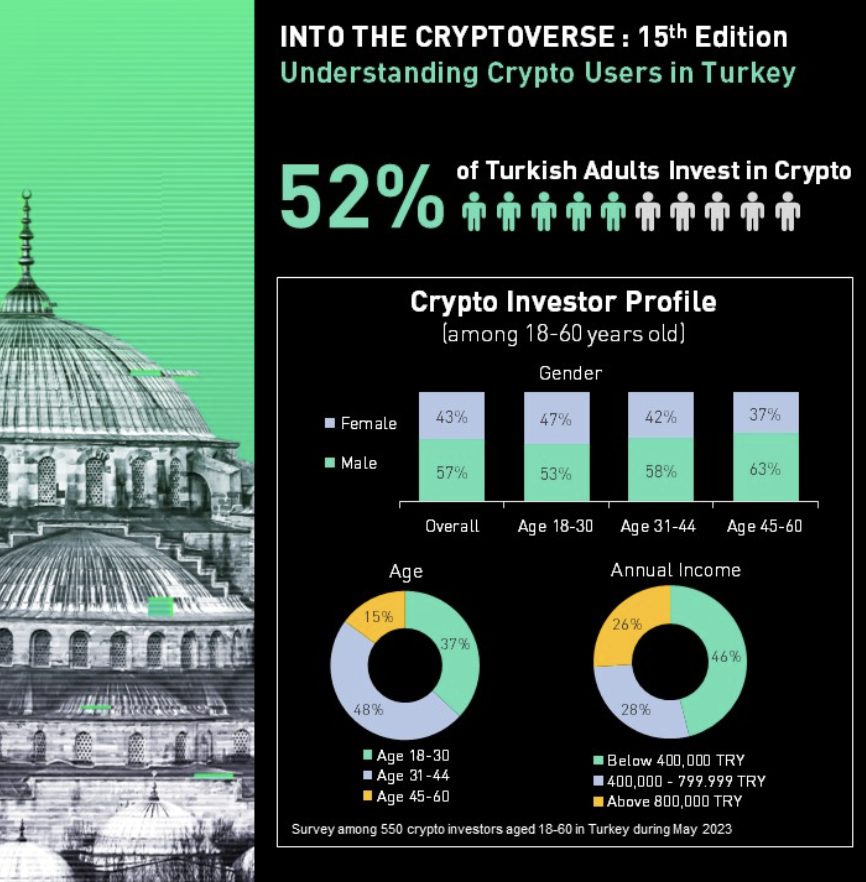 Also Read: Aptos to 'Unlock' $100 Million Worth of APT Token