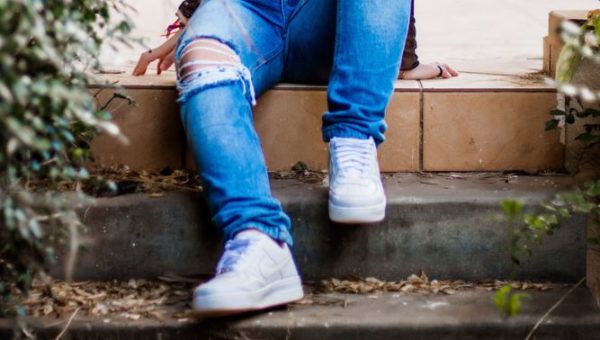 Comfortable, chic and cool, white sneakers are something that we all absolutely love.
But what started off as a trend, has now become a wardrobe necessity. White sneakers are tried and tested accessory that will help you make a cool style statement with minimum effort.
So here are 5 different styles of the cool-looking white sneakers that will go well with all your looks:
1. Steve Madden Bertie white
Go back to the 90's trend of minimalism with these prototypical platform sneakers. This Bertie range of uber cool sneakers from the house of Steve Madden is an ideal throwback to the sporty-casual look and will certainly go well like sweatshirts and fitted mini-skirts. The upper fabric, lining on the sides and the sole of the shoe is man-made. They will pep up the simplest of your outfits and will make you look far from boring!
2. Converse Chuck Taylor low top sneaker
A pair of white canvas sneakers will NEVER go out of style. For a casual day out with friends, these will be your best bet and is there anything you can't pull these off with, actually NO! Converse has been producing sporty and comfy shoes all the while. These exemplary shoes have a canvas upper and lining/synthetic sole. The lace up pattern on the sneakers assures utmost fitting and style. So much adorbs.
3. Geox Myria shoes
Investing in these Geox Myria Shoes will certainly be one of the wisest decisions you'll ever make. These women's low-top breathable lightweight sneakers come with a non-slip flexible durable design. Exuding a funky charm, these shoes are made in a white palette that will easily complement any shade of your clothes. These are embellished with on-trend detailing, such as gleaming studs, and will add instant personality into even the most simple look.
4. Lee Cooper women white sneakers shoes
When basics meet a dash of black, there's bound to be fire works! We are totally bowled over with the velcro trend, especially on our shoes. These are so easy to pair with just about anything. The upper part of the shoe makes these durable and the TPR outsole gives a firm grip to your feet. Sporty in appeal these are totally awesome and something that will make you fall in love with itself, head over heels!
5. Adidas women white sneakers shoes
For those who pin their faith only on heels, these are the perfect shoes for you. Talking about the material, the shoe is made from canvas fabric for the upper while the footbed is made of comfortable sole. With these two good quality materials, you can trust its durability and comfort. In addition, needless to mention, this pair has a good design with lace up closure to ensure you the best fitting.